Animal Crossing: Pocket Camp Player's Chart Details Villager Resources and Resource Timers
Animal Crossing: Pocket Camp is out in the wild, and so far, it's quickly becoming one of the most popular Nintendo games released for iOS and Android. That's thanks in part to the game's resource system, which has players farm for raw materials throughout the in-game map. But after realizing just how complex the game's system can be, one Reddit user on r/ACPocketCamp decided to make things easier for new players by creating a chart detailing the game's rewards system.
Created by u/SenorDeeebs, the chart is split into two sections: villager resources and timer renewals. In the first section, u/SenorDeeebs categorizes villagers within their four camp aesthetic preferences—natural, cool, sporty, and cute—and lists which primary resources they give out to players in campsites and in exchange for favors.
For instance, Goldie and Eloise are two natural aesthetic animals that mostly give out steel, whereas Jay and Angus are the only two primary sources for preserves. The chart simplifies camp managers' daily grind, showing where players should focus if they need specific raw materials for crafting (such as cotton for crafting couches).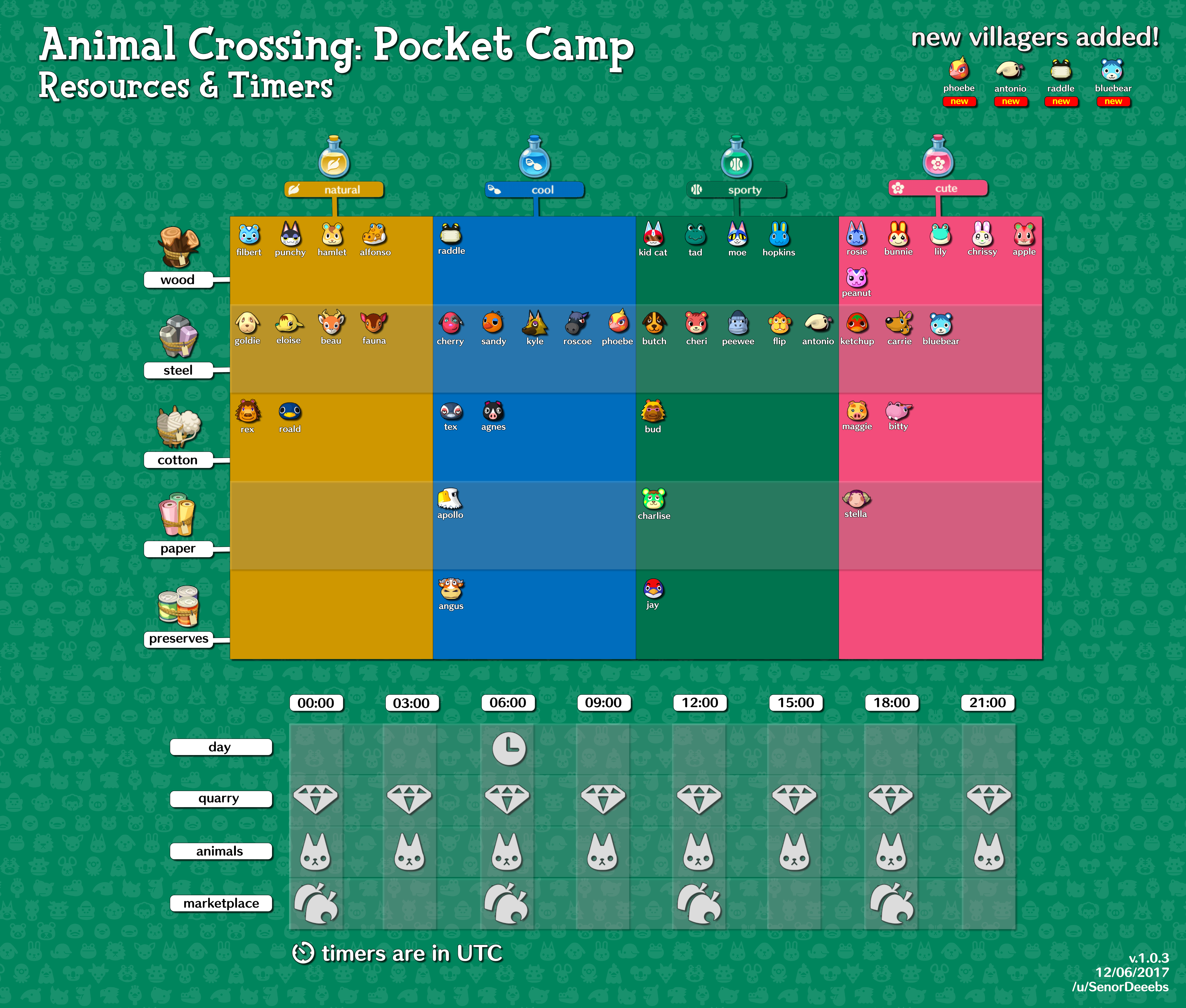 As for the chart's second half, this section tracks items, rewards, and resources that undergo in-game resets every few hours. Set up entirely under UTC, u/SenorDeeebs details when the Quarry refreshes rewards, when a new day begins, when villager spawns change, and when marketplace items rotate.
As it turns out, resets and rotations happen in intervals of three or six hours, usually alongside one another. This means players can optimize their resources by regularly popping in-game after breakfast, lunch, and dinner. Check out the full chart above for more details.
Alongside the chart's timer and primary resource tracker, u/SenorDeebs also provides an in-depth guide to Animal Crossing: Pocket Camp's inner workings, including everything from micromanaging villagers to preparing for loans. For discussion and updates to the chart, head on over to u/SenorDeebs' original post on the Animal Crossing: Pocket Camp subreddit.
And if you'd like more specific details on managing Pocket Camp's ongoing holiday event, check out our guides to grabbing a Santa Hat, picking out holiday items, and grabbing candy canes in-game.