Animal Crossing: Pocket Camp Mobile Guide Details Villagers' Resources and Personalities
It's easy to lose track of villagers in Animal Crossing: Pocket Camp. That's partly because there's over 40 animals in the game, from Lily the frog to Hopkins the inflatable bunny. Luckily, one Pocket Camp player is making life much easier for powerusers after posting a phone-friendly mobile reference guide onto r/ACPocketCamp detailing villagers' primary resources alongside their personalities.
Created by u/Pasu2k, the guide comes in a 1080×1920 resolution, making it perfect for most smartphones with a 720p or 1080p screen. The chart itself splits animals into five distinct categories based on the game's crafting resources: wood, steel, cotton, paper, and preserves. From there, u/Pasu2k also separates villagers into their personality types, so camp managers can hone in on specific animals to berate for requests.
For instance, Kid Cat and Tad are both animals who give out wood, and they're also sporty campgoers, making them perfect choices for camp managers that need wood and prefer building sporty items. But both animals are also listed together alongside Apple and Peanut, two female villagers who also give away wood but prefer cute furniture over sporty items. Alongside the categories, u/Pasu2k's chart features the game's new villagers, making sure players are entirely up-to-date with the game's four latest animals.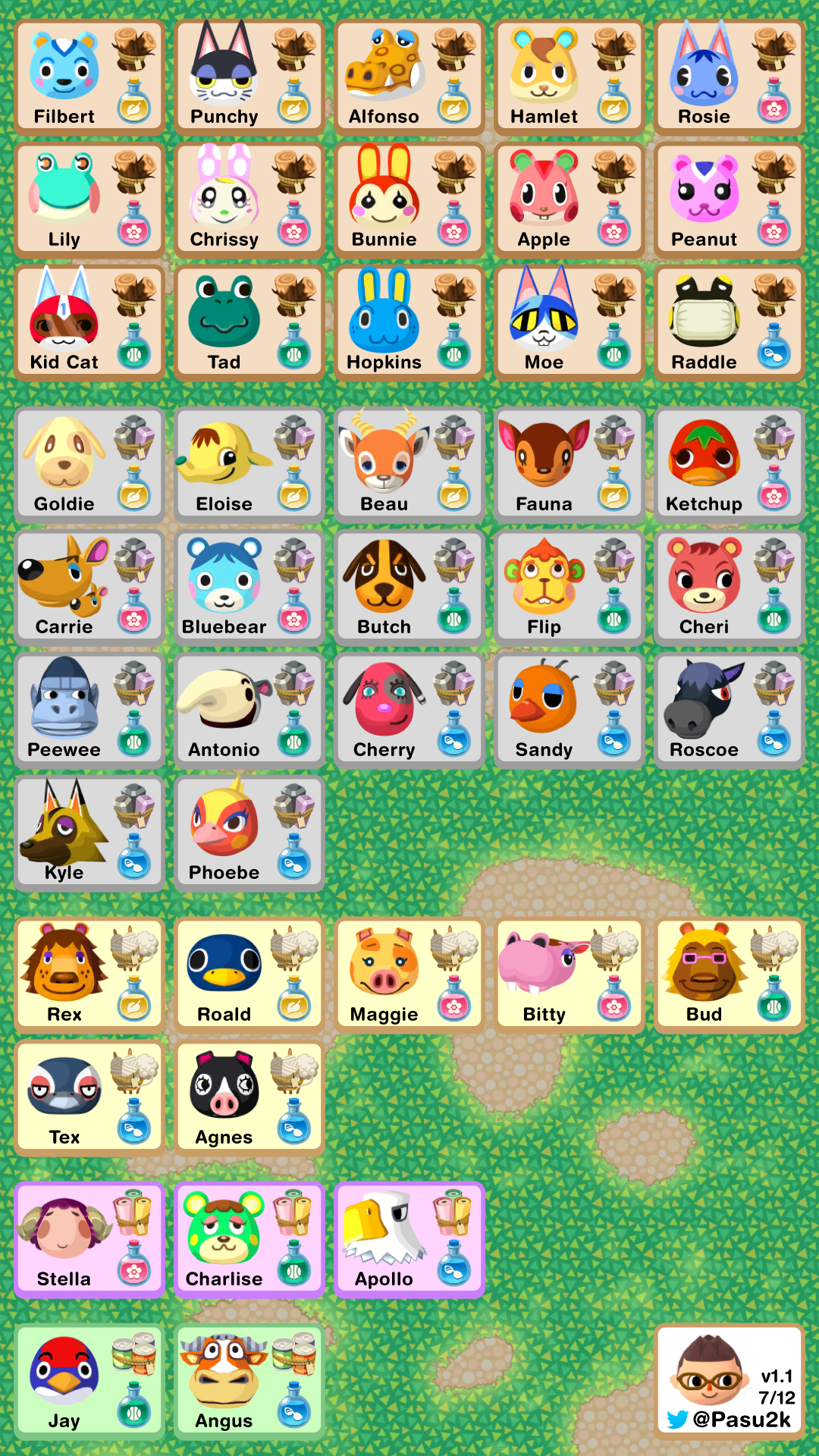 While u/Pasu2k's guide is one of the most mobile-friendly iterations around for Animal Crossing: Pocket Camp, it isn't the only infograph available that makes resource farming easier. Earlier this week, fellow r/ACPocketCamp user u/SenorDeeebs created a villager resources and resource timer chart, showing when the marketplace rotates items, animals change locations, and the quarry's rewards renew, just to name a few features. It's quite useful for Pocket Camp and shouldn't be missed by any serious players.