Animal Crossing: Pocket Camp | Release Date, Gameplay, Features, and More
Nintendo announced Animal Crossing: Pocket Camp on Oct. 24, finally bringing the series to iOS and Android after the title was originally slated for a Fall 2016 release.
Animal Crossing: Pocket Camp has players maintain their own campgrounds by creating furniture, hanging out with local campers, collecting butterflies, fishing, and grabbing materials for creating new items, just to name a few things campsite managers can do.
Now that Nintendo's official livestream about the game is out of the way, there's plenty of info out there about the upcoming title. Here's what you need to know to get ready for Animal Crossing's official mobile launch.
Release Date
Nintendo plans to launch Animal Crossing: Pocket Camp for "late November 2017." The game is already available in Australia, however, and players around the world can install Pocket Camp on both iOS and Android by working past region-locked store downloads.
Platforms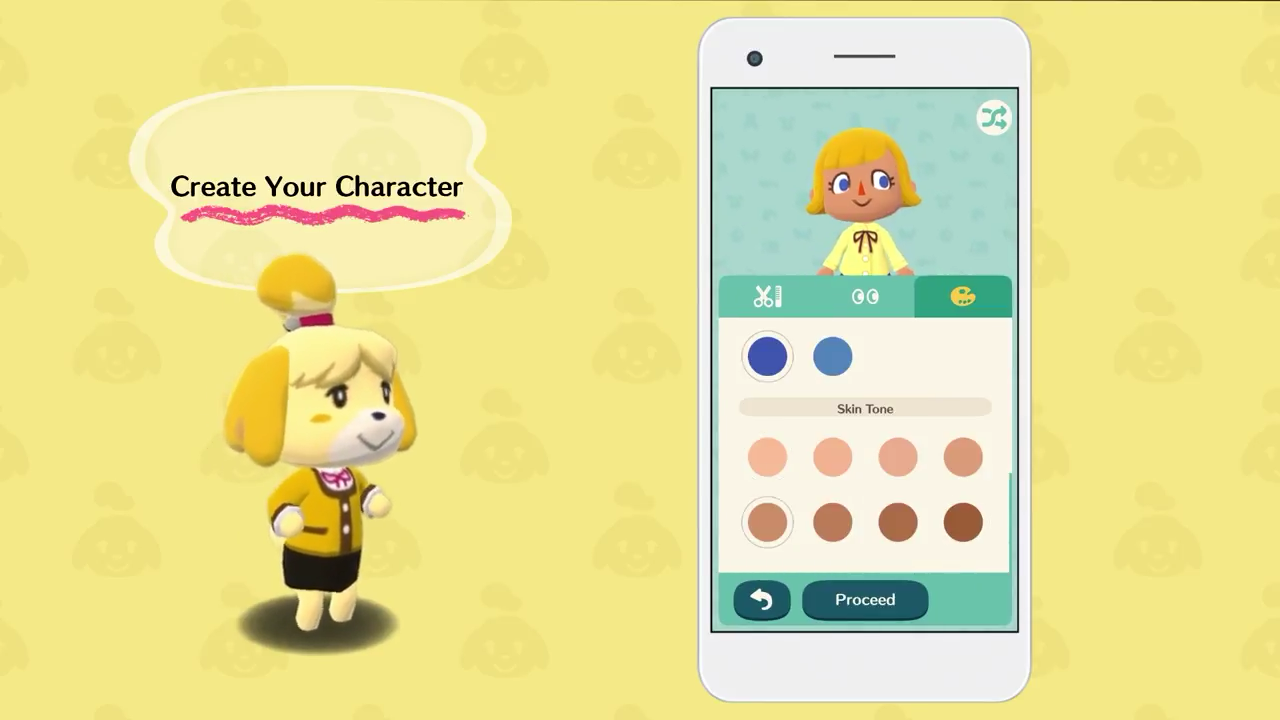 Animal Crossing: Pocket Camp is slated for iOS and Android smartphones. No other platforms are planned.
Gameplay
Nintendo essentially took the classic Animal Crossing formula and converted it over to a free-to-play mobile model with microtransactions. In the game, players work with Isabelle as a campsite manager working on a camp in the middle of a forest. Managers can build outdoor furniture for the campsite by collecting materials, crafting items that will attract local campers to the location. They can also collect furniture to build up their camper's interior which replaces the player's home.
Furniture is earned through a couple ways. Campsite managers can craft furniture by placing a crafting order with Cyrus the alpaca, giving him raw materials that he can turn into swings, couches, and more. Campers will come into the campsite if players collect their favorite furniture, and they can also request items from the campsite manager and reward them with materials and bells in thanks.
There's also the new "friendship level" system. Chatting with campers and completing their requests boosts the player's friendship with a camper, mirroring Stardew Valley's and The Sims' friendship system. The more the player draws on a camper's favorite furniture or raises their friendship level, the more often that camper will come over. And amenities, like pools, will increase friendship levels more significantly than small items.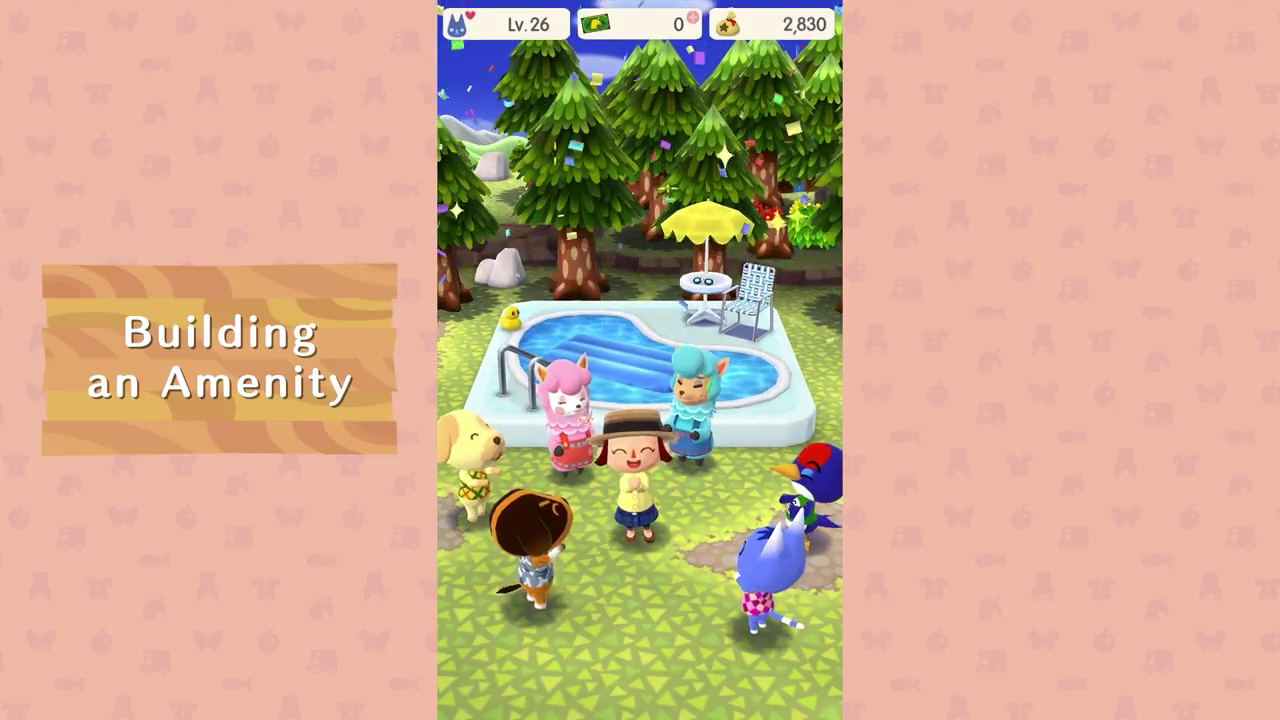 Several classic gameplay features are returning, of course. Players can fish in rivers and oceans, catch butterflies, place furniture in their campers, and experience the game's day/night cycle in real-time. Players can also go to the Market Place, shopping at Nookling Global's pop-up store for items and the Able Sisters To Go's storefront for clothing, just to name a few shops.
Oh, and players can upgrade their campers, adding in new paint jobs and expanding the interior with a loft. Like Tom Nook's home extensions from the original games, the latter requires the player to pay off a loan when done. And there's also in-game seasonal events, mirroring Animal Crossing's festivals celebrating fall, winter, spring, and summer.
Leaf Tickets
Animal Crossing: Pocket Camp is designed entirely as a free-to-play title. Players can hop into the game and build up their campsite without spending a dollar. But if they want, players can also use Leaf Tickets to help speed along their campsite's growth.
Leaf Tickets are earned through two ways. They can be earned in-game and used to pick up raw materials for crafting, or players can purchase Leaf Tickets as microtransactions and use them in-game. According to the October Animal Crossing Direct, Leaf Tickets are currently planned in several paid iterations, listed below:
20 Leaf Tickets—$0.99
40 Leaf Tickets—$1.99 (also comes with bonus five during sale)
80 Leaf Tickets—$3.99 (also comes with bonus 20 during sale)
160 Leaf Tickets—$7.99 (also comes with bonus 40 during sale)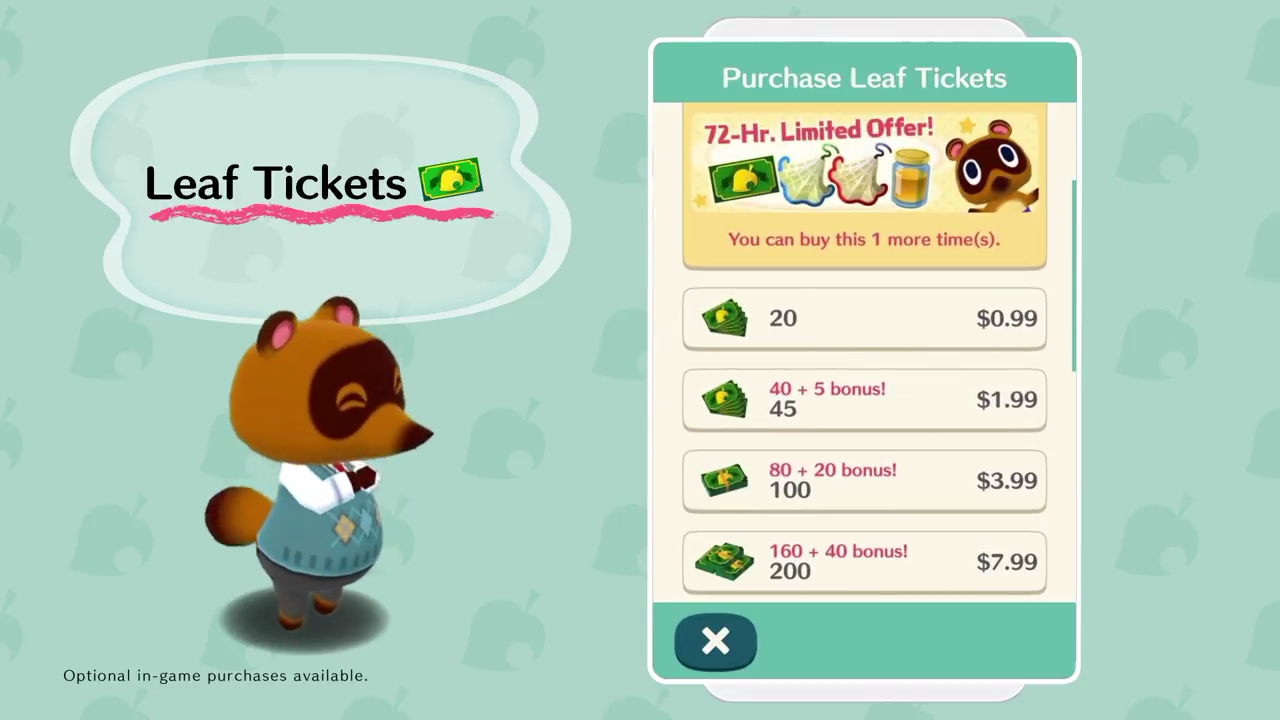 Beyond picking up raw materials, Leaf Tickets can also be used to speed along Cyrus' amenity and item crafting. And players can buy throw nets and honey with their Leaf Tickets, letting managers capture more fish and bugs than with a fishing pole and a net, respectively.
Online Play
Not unlike Nintendo's previous mobile releases, there's also an online component to Animal Crossing: Pocket Camp's gameplay. Randomly, campsite managers may stop by the player's campsite, letting players check out their fellow managers' camps. Or friends can share their IDs and add one another in-game to check out each other's campsites at any time.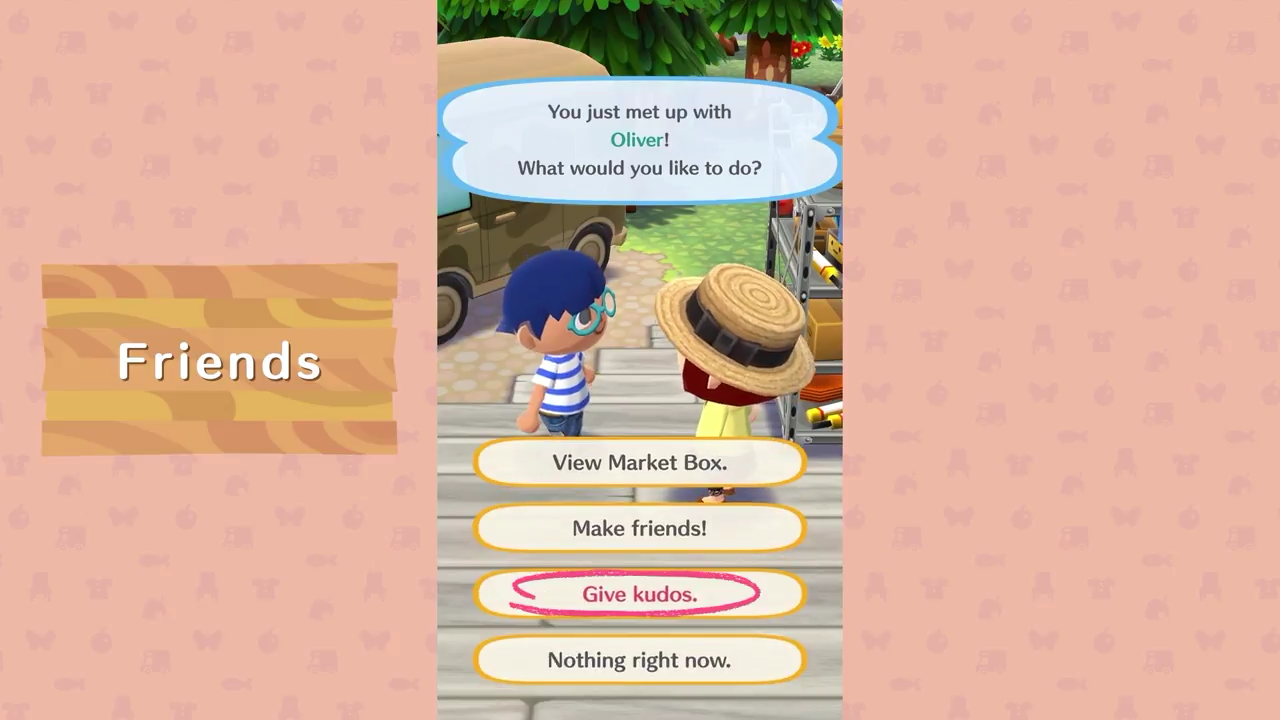 Managers can exchange bells for fish, fruit, and bugs, or visit one another's campsites, even without adding each other as friends. However, friends can visit each other's camps at any time, while strangers only appear for a limited time. Players can also give other managers kudos to both strangers and friends, congratulating another player for their campsite's progress. While online is more social media-driven than anything, it still allows for plenty of online fun.
Animal Crossing: Pocket Camp launches in late November for iOS and Android smartphone devices. The game is currently available in Australia, which means interested U.S. players can get their hands on the game early by creating an Australian iTunes account or sideloading the game on their Android.