Animal Crossing: Pocket Camp Chart Tracks Shovelstrike Quarry Rewards
Animal Crossing: Pocket Camp has been out for just a few weeks, and the game is already racking up some serious powerusers. Players over at r/ACPocketCamp just unearthed information that explains the elusive Shovelstrike Quarry's rewards system.
The Shovelstrike Quarry essentially lets players break rocks in exchange for minerals and gems. This in turn lets players turn these rewards into bells and materials for the game. Getting into the quarry is tough, though, as Pocket Camp significantly limits access to the area. Players can use it by either having five friends help them once per day, or spending 20 leaf tickets to hop in every three hours.
There's four minerals available in the quarry —Gold Nugget, Silver Nugget, Ruby, and Sapphire—but the reward system actually confused players for quite some time, because players can only hop in once per three hours (or once every day). So instead of simply studying the system by hand, Pocket Camp Redditors decided to datamine the game.
Originally, the r/ACPocketCamp Discord was collecting data via a Google Form, tracking how rewards are handled. But then Discord user bluesun was able to successfully grab the game's Sunstrike Quarry rewards information from the game's files, with the community comparing it to the players' self-reported data. Turns out bluesun's work matched up with the Redditors' information, with "a ~98 percent correlation rate" according to u/Elaeagnifolia.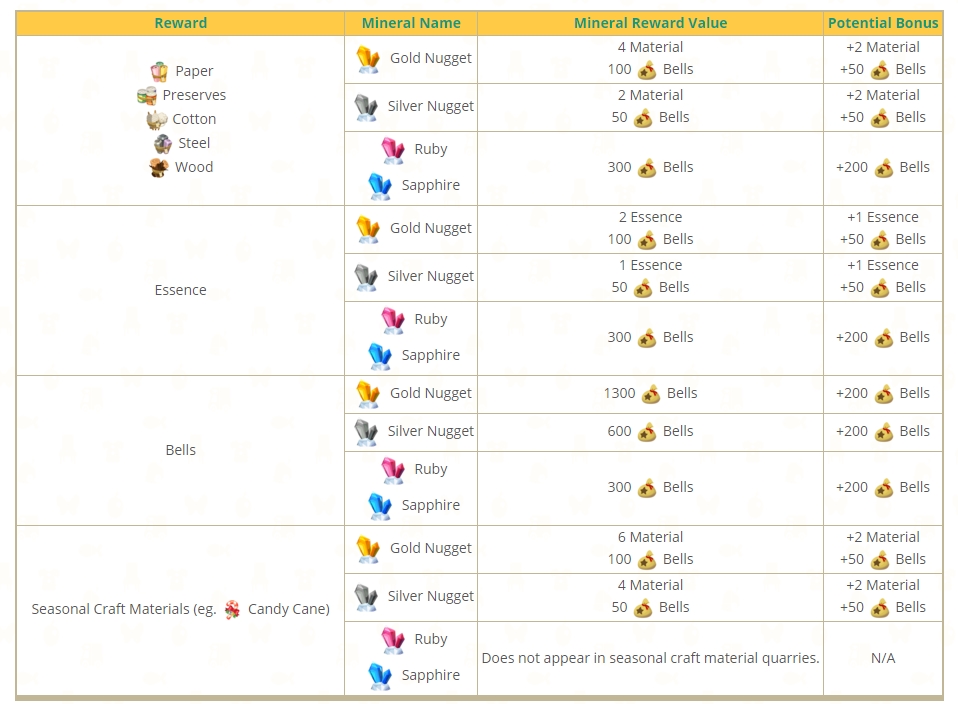 The full conversion chart has since been added onto Animal Crossing: Pocket Camp's Gamepedia Wiki. Redditor u/SenorDeeebs, who previously created an impressive villager resources and rewards timer reference guide, has also added the data into his extensive beginner's guide into Pocket Camp. Take a look above for the full Shovelstrike Quarry reference guide.
There's already a growing selection of reference charts out there for playing Pocket Camp, from holiday guides to phone-friendly reference images. Expect more beginner's guides to pop up as Pocket Camp continues to grow in popularity.