Assassin's Creed Origins Graphics Downgraded Post Patch 1.03 And 1.04 [Screenshots]
Graphics Downgrade controversy returns in Assassin's Creed Origins to embarrass Ubisoft? Going by the multiple complaints on Reddit, Ubisoft and Assassin's Creed forums, it seems this is indeed the case. Ubisoft recently releases two Updates/Patches for Assassin's Creed Origins – Patch 1.03 and Patch 1.04 – the first one was a major update as it brought a lot of new features and bug fixes, whereas the later on was just intended to fix one single bug and improve the overall stability of the game. However, for many Assassin's Creed Origins players these two patches brought some weird graphical issues – textures not loading properly, downgrade in Lighting and Draw Distance.
Reddit and Ubisoft forums are full of such complaints – one user even shared comparison screenshots detailing this graphical downgrade issue in Assassin's Creed Origins post Patch 1.03 and Patch 1.04. Read the complaint below and do check out the comparison screenshots as well.
Triumphant75 says: "I have noticed a massive graphics downgrade in Assassin's Creed Origins PS4 Pro since I installed 1.03 patch. Textures and draw distance are heavily impacted. I can assure you this problem did not exist before. It looked absolutely perfect before the patch I was amazed at the long draw distance but now it seems to be very short. From a certain distance (as short as 50 meters in-game), textures look flattened and ugly and certain objects do not load. After getting closer the textures load normally."
Case 1: Facing building in Cyrene – Image 1: shows very blurry building texture. Image 2 – after getting close enough the right texture loads and the building looks normal
Case 2: Facing Temple In Siwa – Image 1: At first there are less "flags" on the temple and they look white. No flames at the left side of the entrance as well. Image 2: After getting a bit closer, the red flags finally load as well as the flames at left side of the temple's entrance
Case 3: When using Senu the ugly graphics at distance are so bad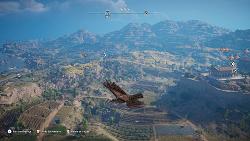 Here's another similar complaint from Reddit – user SkiCowZoo says:
"Since the last patch lighting, pop-ins, textures, and draw distances seemed have been tampered with. I had little to no problem with performance before so I don't know why they changed this so much. I enjoy this game immensely and would to be able to finish it with the same amazing environments as before?( the game is beautiful still just not as much in some areas) PS4 Pro player by the way. I've heard there are issues on other platforms so maybe this was a bug with the last patch?"
We have received an update from Ubisoft – two of their representative/support staff has acknowledged that the development team has received multiple graphics downgrade complaints, the investigation is on and a fix is going to be provided as soon as possible.
Ubisoft Support Staff Ubi-Keo said: "We received a few reports from players that after the 1.03 update that there were drops in the draw distance. Is this the issue you are experiencing after installing update 1.04? If so did you also experience this after installing update 1.03? As I mentioned this was reported and is currently being investigated."
In short – things which started on a great note for Assassin's Creed Origins is slowly getting messed up – it's all in the hands of Ubisoft to fix the issue as soon as possible.