Battlefront II Beta Has A Long Neck Glitch That We Saw In Battlefield 3 And Battlefield 4
We all see buggy graphics in various games, and some of them just won't wipe out of memory. The long neck glitch is one among many where you see amusingly elongated character necks, that do not really ruin the gameplay but sounds foolish. This long neck glitch has been noticed by many games by DICE. This time it returns back in Star Wars Battlefront 2 Multiplayer beta.
Similar long neck glitch has been seen in Battlefield 3 and Battlefield 4 that lead to birth of some laughable memes. It is a bit surprising to know that this glitch still exists. You can click the picture below get a full view of glitch shared by user Rowger00 on Reddit.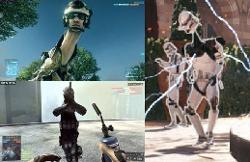 The long neck glitch first was seen in Battlefield 3 Beta, and there are possible causes explained yet what make the characters appear so weird in the game. It is extremely funny to look, and often it has been the part of DICE games. Players had also noticed the same thing while playing Battlefield 4 where they noticed soldier with elongated head, this was triggered in controlling character movements like jumping or crouching.
Star Wars: Battlefront 2 is releasing on November 17, 2017 on PlayStation 4, Xbox One, and Microsoft Windows. Talking about the glitch it is unclear whether it will be a part of the game in form of Easter Eggs or just coding bugs that can be resolved by upcoming patches.
Source: Reddit