The Best Xbox One Bundle Deals (December 2017)
Black Friday may be long gone, but the holidays are still here for another few weeks. And is there any better way to celebrate the season than picking up a brand new Xbox One? The PlayStation 4 already has plenty of excellent bundles out there, but when it comes to holiday 2017, some of the best offerings around are from Microsoft.
That's thanks in part to the company's new Xbox One X, which features advanced hardware that allows for 4K resolution in-game, enhanced graphics, improved framerates, and, as Phil Spencer once hinted, a GPU and CPU that can even handle virtual reality. Thanks to the Xbox One X's release, the rest of the Xbox One family is more affordable than ever before (and there's even a spare deal here or there for the Xbox One X).
Picking up an Xbox One as part of a larger bundle is a pretty great idea for this holiday season, and even if you missed the original Black Friday sales, there's still plenty of Xbox deals to go around until Christmas. Here are some of the highlights.
Xbox One S 500GB Madden NFL 18 Bundle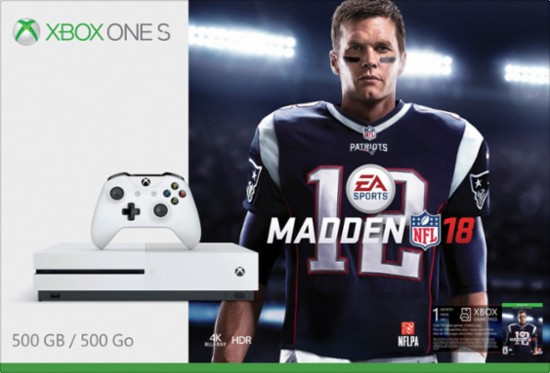 As far as the Xbox One S goes, it's easily the best option for gamers that don't need the Xbox One X's high-end rendering capabilities. College students with 720p or 1080p TV screens, for instance, may benefit from the Xbox One S. So will players on a budget. And as far as Xbox One S deals go, the Madden NFL 18 bundle is one of the best to pick up.
Love or hate football, Madden is a sports classic. It's easy to learn, difficult to master, and provides an engaging single-player football experience along with intense local and online multiplayer action. Even if you're not a huge football fan, Madden NFL 18 is designed to be engaging for both sports jocks and newcomers alike. Plus, what's not to love about seeing grown men tackle each other over a pigskin?
As far as Xbox One S bundles go, this one is notoriously cheap, too. Best Buy lists it for $229.99, with the bundle usually marketed at $279.99 during the off-season. GameStop similarly has the console on discount, listed at $229.99 as well. And Amazon users can also grab the bundle for $249 with Prime shipping, alongside a used offering for $229 (and similar prices through the Amazon Marketplace). As far as Xbox One S bundles go, though, grabbing Madden 18 is a great way to start winter break off right.
Xbox One S 500GB Minecraft Complete Adventure Bundle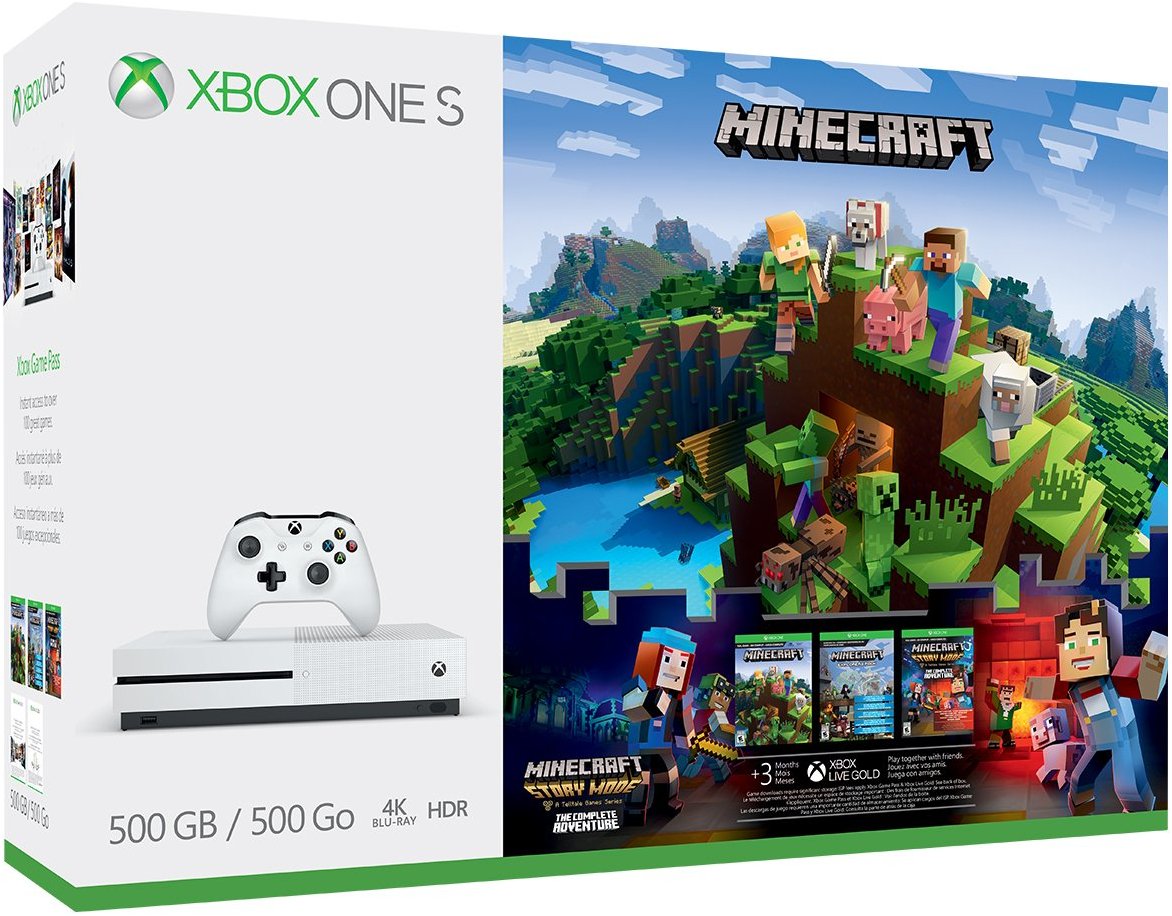 Minecraft is one of those games that's a must-have for any Xbox One user. And that means the Xbox One S Minecraft Complete Adventure bundle is one of the best options around if you're looking for an affordable way to finally pick up an Xbox.
Unlike the Madden NFL 18 Xbox One S bundle, this one comes with two games: Minecraft for Xbox One and Minecraft: Story Mode—The Complete Adventure. Technically speaking, both releases are marketed as if they're part of the same game, but the two titles are vastly different from one another.
Minecraft: Story Mode is an adventure game by Telltale Games that takes parts of the Minecraft universe and weaves them into an episodic story. Meanwhile, Minecraft is the Xbox One's version of the survival, crafting, and construction sandbox classic.
So in other words, the bundle comes with two games, not including the "Minecraft: Explorers Pack" DLC that comes with the bundle. And it's the same price as the Madden NFL 18 bundle, too. GameStop offers the Minecraft bundle at $229.99, down from $279.99. Best Buy also has the console for $229.99. Plus Amazon offers the console bundle for $229.99 with Prime shipping available. While Minecraft may not appeal to every gamer in the world, grabbing its Xbox releases with an Xbox One S is sure to make your family happy—and your wallet, too.
Xbox One Bundles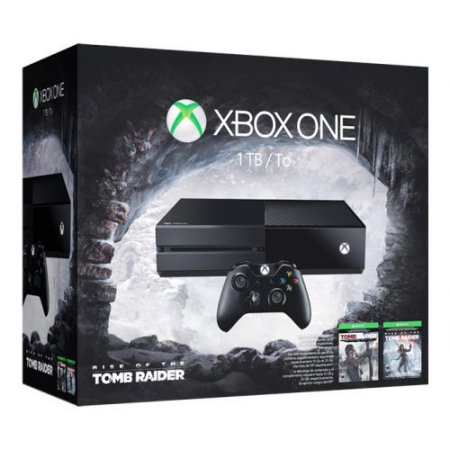 The Xbox One S may be the best option on the market to jump straight into playing Xbox games, but the original Xbox One still has some solid bundle options of its own this holiday season. For instance, there's the Xbox One 1TB Rise of the Tomb Raider bundle, which is sure to delight fans of the franchise's reboot.
Hosted at Walmart and shipped out via WorldWide Distributors, the bundle features both Tomb Raider: Definitive Edition along with a download code for Rise of the Tomb Raider. Although Rise of the Tomb Raider originally came out for Xbox One in 2015, and Tomb Raider: Definitive Edition is its predecessor, both games regularly retail for around $20 to $30 each. In short, that makes Walmart's offering a pretty solid deal because it offers both games at a slight discount compared to other bundles. The whole package is available for $309.99 through Walmart, with the bundle also online at Amazon for $311.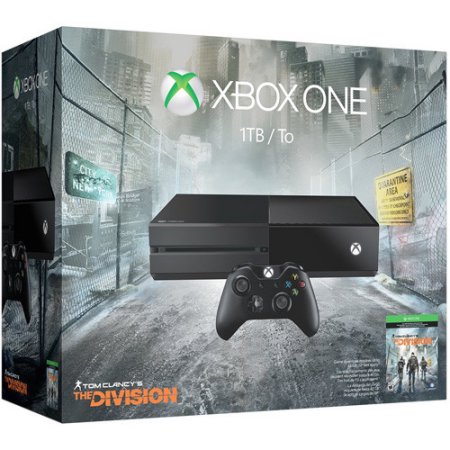 Alongside Rise of the Tomb Raider's bundle, there's also the Xbox One 1TB Tom Clancy's The Division Console Bundle. That bundle includes a physical copy of Tom Clancy's The Division, and the deals for the console are slightly cheaper than Tomb Raider's iteration. Walmart, for instance, retails the bundle at $273.99 through B and H. Meanwhile, GameStop has an offer for $299.97 and Amazon has the bundle at $306.80 with Prime available. Marketplace options also exist for the latter, which bumps the console down to around $220 at its lowest.
Xbox One X 1TB With Tom Clancy's Ghost Recon Wildlands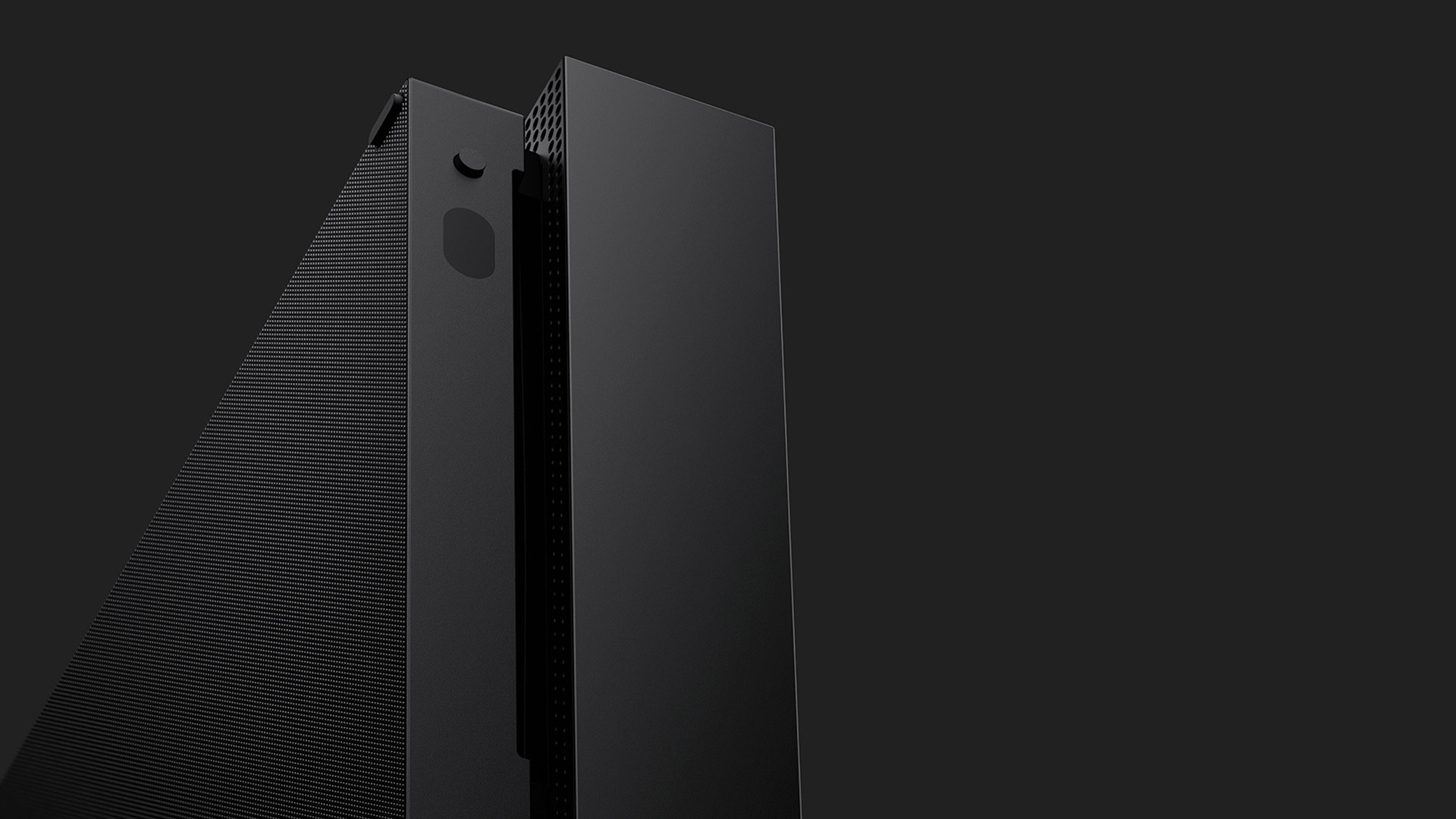 Unlike the Xbox One S, which features plenty of bundles for the holiday season, the Xbox One X largely doesn't come with other games. That's partly because the Xbox One X is intended as an upgraded Xbox One, so in many cases, buyers will be exchanging their original console for the more advanced version.
Case in point, the Xbox One X 1TB Tom Clancy's Ghost Recon Wildlands bundle is one of the few out there right now. Sold by Newegg, which in turn is selling the console from Antonline, this bundle offers both the Xbox One X 1TB along with Tom Clancy's Ghost Recon Wildlands. If that deal sounds familiar, it's because the two were originally sold together in November at $499. Now, the price is upped slightly to $569.99.
While this Xbox One X bundle isn't much of a discount, seeing that the Xbox One X normally retails for $499, it's still a great opportunity to grab both together as Xbox One X units continue to fly off the shelves. Plus, if you have some credit with eBay or Newegg, grabbing the console through either distributor is a great opportunity to save some money this holiday season.