Crash Bandicoot N Sane Trilogy Review Embargo Ends Tomorrow Morning, New Xbox One Listing Spotted
Crash Bandicoot N. Sane Trilogy is scheduled to launch worldwide on June 30 for PlayStation 4. Activision and Sony have not yet clarified whether the game is going to be exclusive to PlayStation 4 full-time or timed-exclusive? Back in April 2017, we received an update from Sony which hinted that the trilogy is going to be a PlayStation 4 exclusive, and then in May 2017, a Best Buy store in Canada put up a poster stating that Crash Bandicoot N. Sane Trilogy is going to be 1 Year PS4 Timed Exclusive, but later on issued a statement that the poster was ONE MONTH OLD and Inaccurate.
A website called SuperGamer today listed Crash Bandicoot N. Sane Trilogy for Xbox One (at the timing of writing this the listing is still live, check it out here). We have taken a screenshot of it just in case it gets pulled down. With just a few days to go for the launch of the game on PlayStation 4, it would be better if Activision stops playing this hide and seek game and clarifies what exactly is the deal they have signed with Sony for Crash Bandicoot N. Sane Trilogy.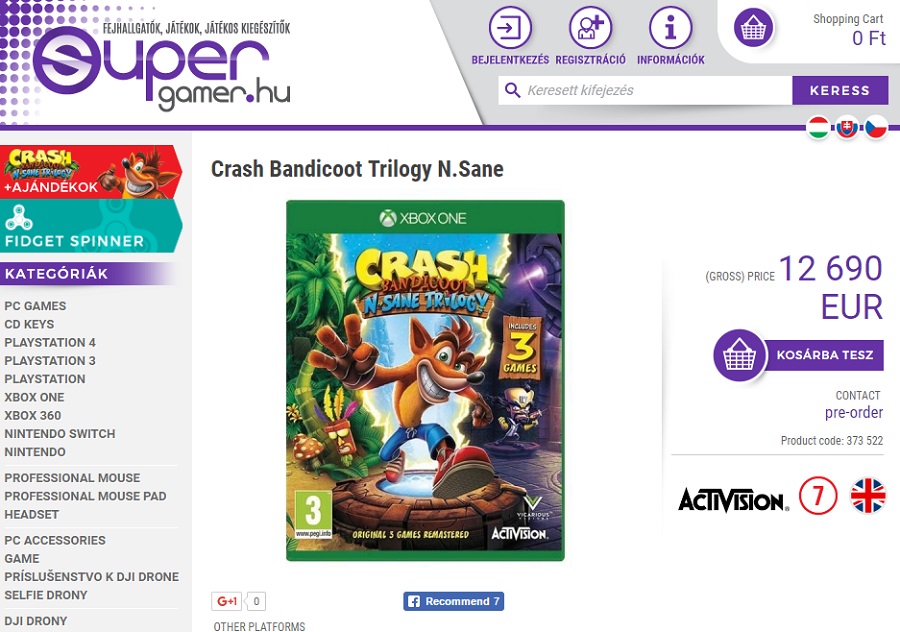 In another news, it seems like Crash Bandicoot N. Sane Trilogy review embargo will end on June 29. Andrew Reiner, Executive Editor at GameInformer, said this on Twitter a few hours ago: "My Crash Bandicoot N. Sane Trilogy review is done. Goes live tomorrow morning."
My Crash Bandicoot N. Sane Trilogy review is done. Goes live tomorrow morning.

— Andrew Reiner (@Andrew_Reiner) June 28, 2017