Cuphead: 125000 Units Sold On Steam In 3 Days – Report
The development work on Cuphead was started in 2010, and it was first revealed at E3 2014. This means players waited for almost four years to get their hands on Cuphead, and now that the game has been out worldwide for the past four days let's check out how successful it is in terms of sales. According to the data released by Steamspy – Cuphead has sold over 120000 units on Steam. According to the data released by Steamspy just a few hours ago, Cuphead is currently owned by 124,540 players (in just three days time)- an impressive figure. You guys can check out the screenshot from the Steamspy website showing the sales of Cuphead.
Cuphead is a run and gun indie video game developed and published by StudioMDHR Entertainment. Players take on the role of a titular character Cuphead and fight it out against a series of bosses in order to repay a debt to the devil. The game was released worldwide on September 29 for PC and Xbox One. There is no plan to bring Cuphead to PlayStation 4, however, there is a possibility that Cuphead 2 (sequel) could release on PlayStation platforms as the IP is owned by StudioMDHR and not by Microsoft.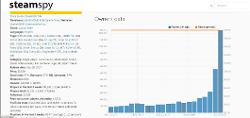 Also, Cuphead currently does not support online co-op. The development team has promised to update the game with the online co-op feature very soon. However, if you own a Nvidia Graphics card then there is a way to play Cuphead in Online Co-op right now.