Cyberpunk 2077 is both First and Third Person Shooter confirms CD Projekt
CD Projekt RED is currently working on two projects, the first one is the third installment in The Witcher series titled as "The Witcher 3: Wild Hunt" and the second one is a brand new IP titled as "Cyberpunk 2077".
Today at Siggraph 2013, CD Projekt Red shared some new details about Cyberpunk 2077. Firstly, the game has been officially confirmed for PC and next-gen platforms (this indirectly means PS4 and Xbox One).
Furthermore, CD Projekt also confirmed Cyberpunk 2077 will be both first and third person shooter. Here is the slide that was showcased at Siggraph 2013 by CD Projekt RED.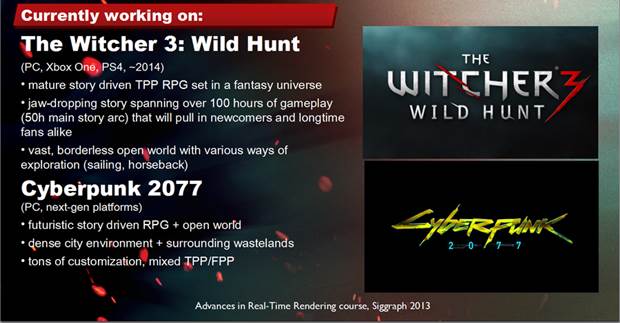 Check out the cinematic trailer of Cyberpunk 2077 that was showcased by CD Projekt way back in January 2013.