It looks like Destiny 2's next expansion is called Gods of Mars
A new leak via the PlayStation Store has revealed that Destiny 2's second expansion is called Gods of Mars and will be releasing in March, according to a post on Reddit.
The Reddit post by u/GodsofMarsLeak posted full screenshots of the PlayStation Store listing, including a description of the DLC and its features. The listing has since been deleted.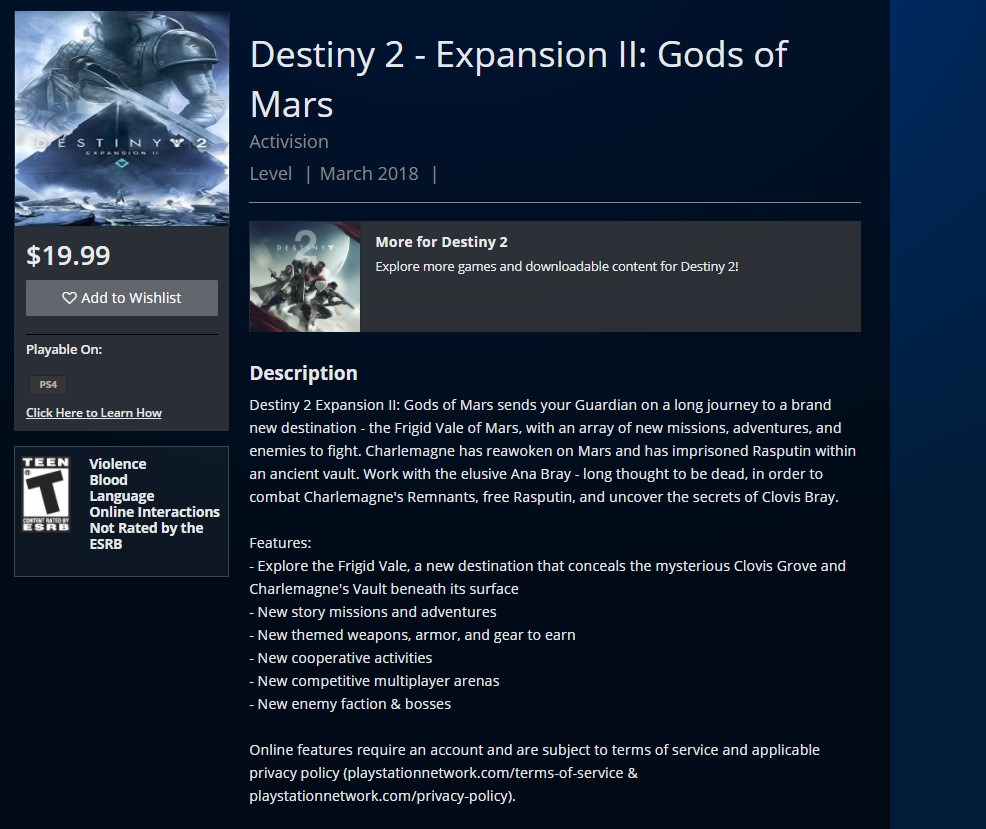 The description reads as follows:
Destiny 2 Expansion II: Gods of Mars sends your Guardian on a long journey to a brand new destination – the Frigid Vale of Mars, with an array of new missions, adventures, and enemies to fight. Charlemagne has reawoken on Mars and has imprisoned Rasputin within an ancient vault. Work with the elusive Ana Bray – long thought to be dead, in order to combat Charlemagne's Remnants, free Rasputin, and uncover the secrets of Clovis Bray.
The description definitely matches up with the Expansion II art that features a female Hunter (Ana Bray), a Warmind vault (Charlemagne), and Guardians standing among a snowy wasteland.
The DLC promises a new destination called the Frigid Vale, plus the same type of content that Destiny fans have come to expect from expansions, like new story missions, new gear, and new multiplayer maps.
What's most interesting is that the image mentions a new enemy faction, which the Reddit post suggests is Charlemagne's Remnants. The Remnants are supposedly repurposed, militarized SIVA-enhanced robots, some of which can be seen by Lord Shaxx in the Tower.
The response to Destiny 2's first expansion, Curse of Osiris, was relatively lukewarm if not negative overall, due to a lot of the game's content being based in the in-game Eververse store. Fans will surely be hoping that Expansion II's content will be handled differently.