Destiny 2 PC: 13 Known Issues, Exact Release Time, Keyboard And Moust Controls
Destiny 2 is scheduled to launch on PC on October 24 and Bungie is leaving no stone unturned to make the launch as smooth as possible. This is going to be the first game in Destiny video game franchise to release on PC and so Bungie is aware of the fact that players are going to face few issues at launch. The developer did a little bit of extra work and came up with a list of Destiny 2 PC Known Launch Issues i.e. bugs, glitches, and issues that Destiny 2 PC players might experience at launch.
In total 13 issues has been listed by Bungie and I am expecting that Bungie is going to fix them as soon as possible after the launch of the game. Without wasting any more time let's take a look at all the issues that Destiny 2 PC players might experience at launch.
1: SLI, HDR, and VSync
Players may experience some rare issues when enabling SLI, HDR, or disabling VSync in some non-native resolutions. For the best experience, players are encouraged to use these features while running at their display's maximum available resolution.
2: Saxophone errors when launching
Players may erroneously encounter Saxophone errors when launching the Destiny 2 application directly from the .exe file. Players who encounter this issue must close the application and relaunch through Blizzard's Battle.net app.
3: Idling to title screen
In some activities, players who are returned to the title screen due to idling may be unable to log back in. Players who encounter this issue must close and relaunch the Destiny 2 application.
4: Login after disconnects
A generic error code may appear to players who lose internet connection, which may block an affected player from logging back in even after reconnecting. Players who believe they are encountering this issue should close the Destiny 2 application and relaunch.
5: Buffalo errors on multiple PCs
Players may encounter Buffalo errors when logging in to Destiny 2 on multiple PCs at the same time. To prevent this issue, players must ensure that they are logged out of Destiny 2 on any PC that they do not currently intend to play on.
6: Cursor in tri-monitor configurations
Changing resolution between 5760×1080, 4080×768, and 3072×768 may trap the mouse cursor in the right-most monitor. Players who encounter this issue should Alt+Tab out of the Destiny 2 application, then back. Players may also toggle Windowed Mode by pressing Alt+Enter.
7: Tri-monitor Depth of Field
DOF effects may be overly aggressive on some tri-monitor configurations. Players who encounter issues with DOF can disable this feature in the Graphics Settings.
8: Windows 10 Game Bar
The Windows 10 game bar may not work in Fullscreen Mode. Affected players who wish to use this feature should use Windowed or Windowed Fullscreen Mode.
9: NumPad Binding
Players are not able to bind controls to most NumPad keys.
10: Screen Bounds on AZERTY keyboards
Players may receive an incorrect key prompt when adjusting screen bounds on an AZERTY keyboard.
11: IME in fullscreen
Players who are running Input Method Editors may encounter a black screen or delay when inputting characters in Fullscreen Mode. For the best experience, these players are encouraged to play in Windowed or Windowed Fullscreen Modes.
12: Closing application
When closing Destiny 2 on PC, players must close the application via mouse input. Controllers cannot select the in-game button to close the Destiny 2 application.
13: Corporate and university networks
Some players may be unable to play Destiny 2 on corporate or university networks. Players who encounter this issue must contact their IT department, to meet the connectivity standards outlined in the Network Troubleshooting Guide.
In another news, Destiny 2 PC is going to be made available exclusively via BattleNet (no Steam version) – and the good news is that the game is up for pre-load right now, so if you own a Destiny 2 PC key then you can head over to the official "Battle.net" website and start your pre-load, the size of the pre-load build is 36GB.
Coming to the exact release time of Destiny 2 PC – Bungie has officially announced that Destiny 2 will be playable on PC starting from October 24 at 10 AM PT which comes to 1 PM ET, 6 PM UK. You guys can use this LINK to check the exact time for your region. Also, take a look at the Visual Guide provided by Bungie on Destiny 2 PC Exact Release Time.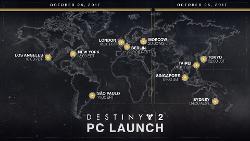 Furthermore, Destiny 2 on PC supports Keyboard and Mouse – the image below shows the Destiny 2 PC Default Keyboard And Mouse Controls. It will be possible for players to rebind keyboard and mouse controls.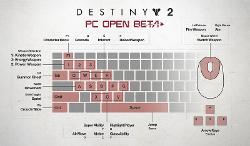 Last but not the least, Destiny 2 PC comes with a built-in communications tools which will help you when you want to chat with your fellow Guardians. Here are the commands that you can make use of for communication:
/f: fireteam chat (party only)
/w: whisper (friendslist only)
T: cycle chat visual modes
As an added bonus, check out the PC System Requirements for Destiny 2.
Minimum PC system requirements
CPU: Intel Intel Core i3-3250 3.5 GHz or Intel Pentium G4560 3.5 GHz, AMD FX-4350 4.2 GHz
GPU: GeForce GTX 660 2GB or GTX 1050 2GB or AMD Radeon HD 7850 2GB
RAM: 6 GB
OS: Windows 7 64-bit or Windows 8.1 64-bit or Windows 10 64-bit
HDD Space: 68 GB
Recommended PC system requirements
CPU: Intel Core i5-2400 3.4 GHz or i5 7400 3.5 GHz or AMD Ryzen R5 1600X 3.6 GHz
GPU: Nvidia GeForce GTX 970 4GB or GTX 1060 6GB or AMD R9 390 8GB
RAM: 8 GB
OS: Windows 10 64-bit
HDD Space: 68 GB