These are the most popular Destiny 2 subclasses in every U.S. state
Every Destiny 2 player is faced with a choice when they start up the game for the first time—which class will you choose?
Warlock, Titan, and Hunter are all cool and useful in different ways, but there will inevitably be a favorite. In Destiny 1, Hunters were by far the most popular, but things are very different this time around.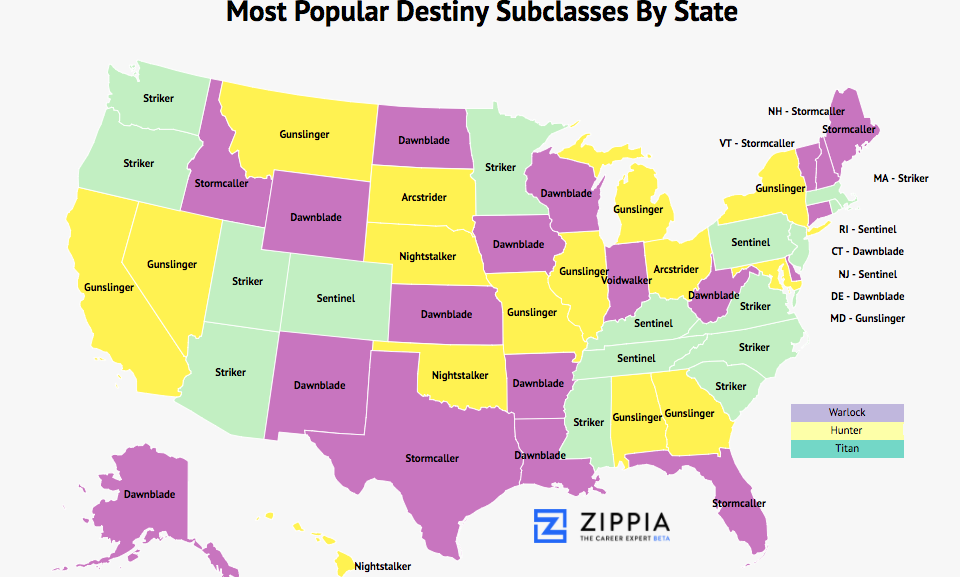 This graphic made by Zippia, a data-based careers website, illustrates the most popular subclass in each state in America. Zippia used tools like Google Adwords and Google Trends to compare subclass popularity, and this time around in Destiny 2, Warlocks are number one.
Taking a closer look at the numbers, the Solar Warlock subclass Dawnblade racks up 12 states, which is the most out of any subclass. The Arc-based subclass Stormcaller is favorite in six states, while the Void-based Voidwalker is number one in only Indiana.
Next up are Titans, who have the Striker subclass to thank for their popularity, as it is number one in ten different states. Up next comes the new Void-based Sentinel, which is tops in six states. Sadly, the Solar Sunbreaker subclass is the least-popular subclass of them all—it's the favorite in no states.
Hunters used to be the king, but now they are the third-most played class in Destiny 2, according to Zippia. Gunslinger is the most popular Hunter subclass, as it comes in hot as a favorite in 10 states. But after that, Nightstalker is most popular in three states and Arcstrider is the least popular Hunter subclass coming in with just two states.
The popularity of Warlocks and Titans is no surprise, as the Warlock Rift ability is crucial in both PvE and PvP for healing or buffing damage. The Titan Striker subclass is also very powerful, and sadly, Hunters are just not as useful as they used to be in Destiny 1.