Bungie has announced a number of quality of life changes planned for Destiny 2
Bungie has announced plans for a number of quality of life changes in the works for Destiny 2 in the coming months.
Last week at TwitchCon, some of Bungie's live team spoke about new content coming in the near future, but this update was more about a bunch of small changes that will improve the game as a whole. And they sound very exciting.
On the newest iteration of the This Week at Bungie blog post, game director Chris Barrett posted a list of just a few of the changes being planned. Barrett will be a familiar name to Destiny fans, as he helped create downloadable content for Destiny 1 with the House of Wolves and Rise of Iron expansions.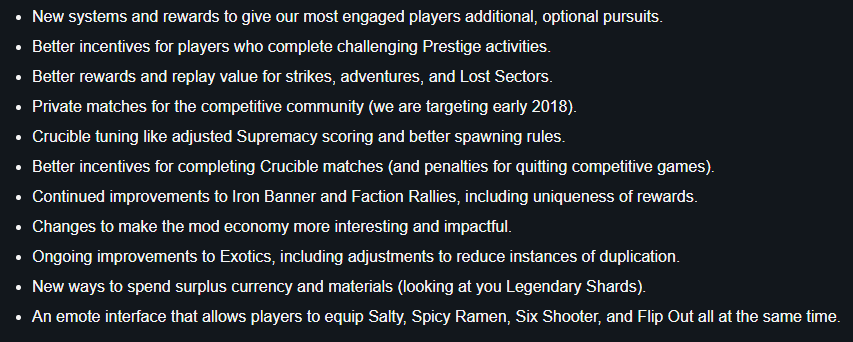 Among the changes and additions listed are private matches for the competitive community, better rewards for multiple activities, more incentive for players to do Prestige activities, the ability to equip multiple different Exotic emotes, and changes to Mods.
There's even more in the works, such as impending changes to the scoring and spawning systems in the Crucible. The score limit for Clash is being reduced from 75 to 50 and Control's score limit is being reduced to 90 from 100.
Even bigger changes are in the works for Survival and Supremacy. For Survival, the round time limit is being reduced to two minutes from three, and life count is being reduced to six from eight. In Supremacy, the score-to-win is 70 instead of 50, but you are now awarded one point for defeating an enemy Guardian instead of having to pick up a crest to earn any points at all.
Now that Destiny 2's launch window is basically over, the game is being passed on to the live team and people like Barrett who will add more quality of life improvements like this over the game's life span.