Bungie has finally detailed what to expect from seasons in Destiny 2
Bungie has finally revealed what to expect from seasons in Destiny 2 at a panel this weekend at TwitchCon.
The panel was hosted by Bungie community manager David "DeeJ" Dague and it featured members of Bungie's live team, live game director Ryan Paradis, and senior designer Steve Dolan, who will be working on the game to keep it fresh and with constant content moving forward.
With each season (four per year), Bungie hopes to have a theme to keep players coming back, earning gear, and having fun in different kinds of ways. This includes timed events like Iron Banner and Faction Rallies, which we've already seen in Destiny 2, but also more expansive three-week long events, like The Dawning.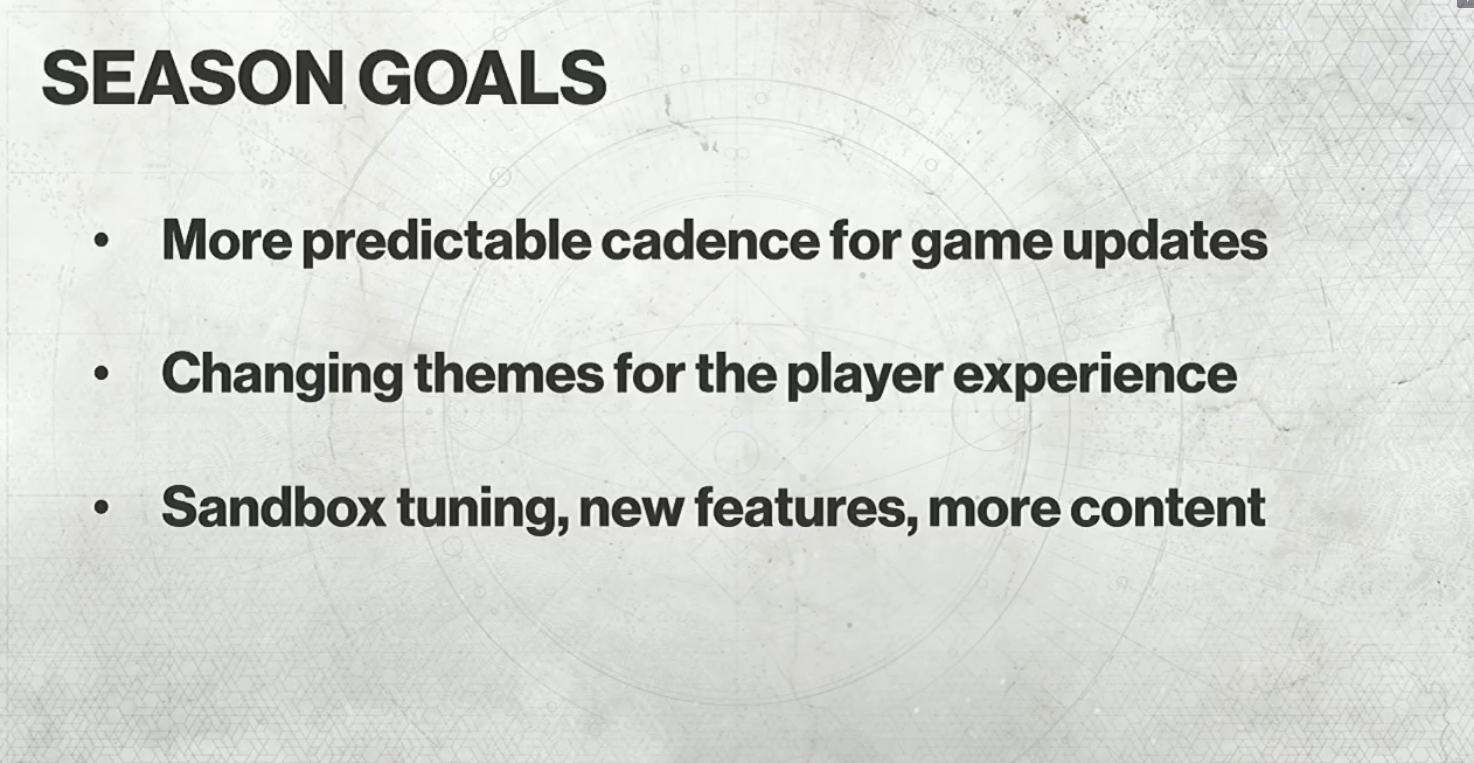 The Dawning is Destiny's winter-themed event that is returning from the original game, and it will include exclusive armor and gear, but will also bring a winter theme to the game. Bungie offered concept art of an ice hockey rink in the Tower, and teased the ability to have snowball fights in-game.
Bungie will also add improvements to existing content, like Iron Banner. The team said that they have "1,500 years" worth of gameplay data from the original event in Destiny 2, and they've decided to overhaul how gear is earned. Players can directly purchase Iron Banner weapons using Tokens and Legendary shards.
Season two's Iron Banner will also bring ornaments, which can be earned through gameplay objectives, like winning matches, that will make your armor look much different cosmetically. Each season will have different ornaments and they will be exclusive to their particular season. Trials of the Nine will have ornaments as well.
A new feature called a "Clarion Call" was announced, described by Bungie as reasons for players to come back to the game and play. The first example given was double XP for players doing any activity with a clanmate. Bungie said that 80 percent of players who've played Destiny 2 were in a clan.
Eververse's Bright Engrams will also be receiving a refreshment of their inventories, meaning that certain items will be gone once season one ends, and replaced with new items in each season. This means there will be new Ships, Sparrows, and Shaders, although Shaders will stay in the game and not be replaced at all.
To close out the panel, the developers announced three live streams in the month of November to talk further about the game's future. Currently, Destiny 2's first DLC is scheduled for some time in the winter, and the PC version releases this Tuesday, Oct. 24.