Destiny Xur: Agent of Nine Location And Items Revealed, Week 7 (October 24): Updated: Images Of All Items
This is the Seventh week of Xur The Agent of Nine in Destiny. He appears only on weekends at the Tower hub at 9:00 am every Friday and leaves at 9:00 am every Sunday. Xur has a very valuable collection of one-time exotics, items which increase the weapon progression speed for around half an hour for one strange coin or sparrow upgrades for thirteen strange coins and much more.
In the Seventh Week Xur is inside the Vanguard room to the right when you enter, and is selling
Suros Regime – 23 Strange Coins
Voidfang Vestments – 13 Strange Coins
Crest of Aplha Lupi – 13 Strange Coins
The Armamentarium – 13 Strange Coins
Exotic Glove Engrams – 23 Motes of Light
also a hand cannon telemetry. fusion rifle telemetry, machine gun telemetry, plasma drive, emerald coil, heavy ammo synthesis
Stay tuned for the image of these items, we will update this post as soon as we get our hands on to it. Tell us guys are you happy with the Xur The Agent of Nine Week Seven Details?
Update:
Here are the image of the items XUR is selling this week: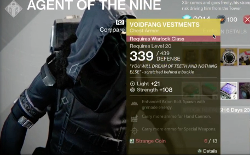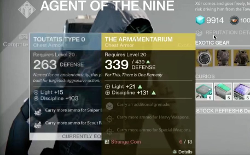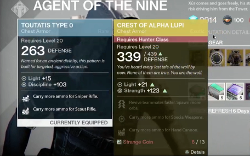 More Images:
Destiny launched in September 2014 and received mixed response from critics and big gaming media outlets. I awarded Destiny an average review score of 7/10, and called it "Bungie Fails To Deliver On Huge Promises, Top Contender For Biggest Disappointment 2014 Award?"