Destiny: Xur Agent of the Nine December 4 Inventory and Location Details Announced
Destiny: Xur Agent of the Nine has arrived in the tower for Week 64 visit (which will run from December 4 to December 5) and you can locate him at this location "He's in the reef". Xur sells exotic weapons, armor, and consumables in exchange for Strange Coins and Motes of Light. He can be found around the Tower or Reef in different locations every weekend.
Here is the list of exotic items Xur Agent of the Nine is selling for Week 64:
Ruin Wings
Skynburners Annex
The STAG
Telesto
Legacy Engram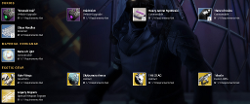 Xur is also important to several Exotic Weapon Bounties, requiring Guardians to speak with him or purchase some of his wares to continue to the next stage of the bounties. He is popularly known as the Santa Claus of Destiny and every weekend is Christmas.