Fallout 4 Gameplay vs Modded Screenshot On XB1 Will Blow Your Mind, These 10 Mods Made The Difference
Mods are a great deal for Bethesda games supporters, and it looks like Fallout 4 doesn't make any exception on that rule. Even on Xbox One, Fallout 4 has the chance to get much better in comparison to the vanilla release, launched back in November for PC and PS4 as well. Mods, by the way, are also coming this month for PlayStation 4.
Interestingly, users are already finding the best mods for Xbox One in order to have a better visual presentation compatibly with frame rate and quality of the experience. A Reddit user has posted his list of favorite mods, let's take a look at it:
Unoffical Fallout 4 Patch
Green in the Commonwealth XB1 V.2.9
Realistic Roads – Black Asphault
[XB1]Enhanced Blood Textures
WET – Water Enhancement Textures
[XB1]Realistic Ragdoll Force
See-Through-Scopes
[XB1]Vivid Weathers – Fallout 4 Edition
Reverb and Ambiance Overhaul
Full Dialogue Interface
Interestingly, the mod listed at number 2 is the one that makes the game really different from the visual feeling Bethesda wanted to convey with the original build. It can be pretty nice to see especially if you got bored with the original build and, it seems, frame rate doesn't have any issue with it on Xbox One.
Look at this video and comparison screenshots below to have a further proof:
Before: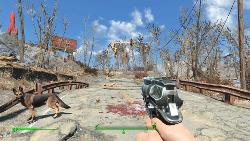 After: