First Bound PS4 Pro Screenshots via Photo Mode, PSVR Also Improving
Santa Monica Studio digital adventure Bound is going to support PS4 Pro as soon as the new Sony console gets available on the market, and today we have a chance to give a look at the first screenshots of the game running on it. It must be noted the game is highly stylized, so you might not notice the higher resolution and stuff from these early images.
PS4 Pro support is coming as part of the 1.02 update. Here's a quick note from the developer, where it is explained how the game is improving thanks to the major power improvement delivering with the new console – it's basically a better anti-aliasing and a higher resolution.
"On PS4 Pro we are rendering edges of geometry in 4K native with multisampling antialiasing and the inner parts of polygons are upscaled from 1080P. Since our game uses mostly geometry and does not rely on texturing too much, I think we got into the sweet spot and now we have nicely looking 4K at 60 Hz. I believe thou that most of you are waiting for the information about PSVR upgrade. We are rendering twice as many pixels than on regular PS4 in VR and adding extra effects on top of that."
Interestingly, PlayStation VR is also improving, and we really look forward to seeing how this version of the game shapes up once PS4 Pro is ready since this could make us see how much room there's for improvement on Sony's virtual reality device.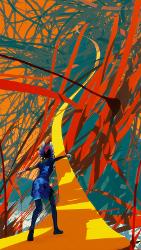 There is this second image, it weighs 12MB in size