GTA V Finance and Felony "Error Code 201" Manual Fix Discovered
Yesterday, Rockstar Games released the biggest update for GTA V called Finance and Felony. Sadly, many GTA V players were unable to download the update due to an error code "201". Thankfully, Reddit user "shadydeath999" has discovered a manual working fix for this GTA V Finance and Felony "Code 201" Error.
In order to fix this issue, players need to first download and install the latest version of Social Club, here is the link. Secondly, they need to download and install the latest version of GTAV Launcher, here is the link. After completing both the steps, launch the game and you should be able to update. The following screenshot was shared by Reddit user shadydeath999 as a proof of the fix.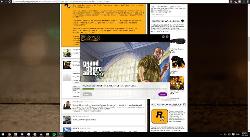 Finance and Felony adds a completely new layer to the pure strategy GTA Online component, allowing you to become a true CEO in a crime organization. New stuff you can do includes "Traffic illicit cargo and contraband. Disrupt rival supply chains. Acquire extravagant new vehicles. Open prestigious new offices. Hire an executive assistant. And run the town, one hostile takeover at a time."
Take a look at these new cars and the price tag it carries: GTA V Patch 1.18 Finance and Felony: Prices Of New Vehicles Will Blow Your Mind.