GTA V: Voice Actors Behind Michael, Franklin, and Trevor Finally Revealed
Who all are the voice actors behind our GTA V lead characters (Michael, Franklin and Trevor)?, this question has been asked million times and now it seems like we have finally got the answer.
In GTA V, Michael is voiced by Ned Luke, Franklin is voiced by Shawn Fonteno and Trevor is voiced by Steven Ogg. The following picture and proof sums up everything.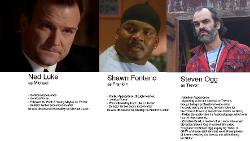 Check out more proof below (via Reddit):
Michael is voiced by Ned Luke:
Franklin is voiced by Shawn Fonteno:
Trevor is voiced by Steven Ogg: