24 Hours Needed To Unlock All Heroes In Star Wars Battlefront II Post Launch
Just a few hours ahead of the release of Star Wars Battlefront II, Electronic Arts decided to drop the microtransactions completely following a massive backlash from fans on Reddit and other similar platforms. Apart from microtransactions, the other major complaint of players was playing hundreds of hours to unlock the heroes in the game. The good news is that Electronic Arts also made changes to the cost to unlock each hero and as per the new calculation it takes a total of 24 hours to unlock all Heroes in Star Wars Battlefront II.
The interesting catch here is that you will have to keep the credits that you earned reserved only for the Heroes – don't think of using it for any other purpose. You guys can check out the screenshot below, it is provided by Reddit user holyang31.
The backlash that erupted just a few days ahead of the Star Wars Battlefront II managed to done the damage, yesterday UK Chart-Track reported that the launch weekend sales of Star Wars Battlefront II were down 60% as compared to the first Battlefront game from DICE, and it was down by a margin of 50% as compared to Battlefield 1.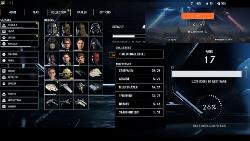 Electronic Arts have disabled the controversial microtransactions temporarily, what new changes they are going to bring to the table we still don't have any idea about it. It would be interesting to see how things go for Star Wars Battlefront II in the future. What do you guys think – a drastic change from Electronic Arts or just some minor change here and there that still won't go down too well with the Battlefront community?