LawBreakers Drops to Only 10 Players Online
Cliff Bleszinski's competitive first-person shooter LawBreakers launched into an extremely saturated market dominated by Blizzard's Overwatch. And despite Boss Key Productions' confidence in their multiplayer FPS, LawBreakers' online player count dropped as low as 10 today, raising questions about the game's future.
PCGamesN reports that on Thursday, LawBreakers saw only 10 players in-game at one moment. A real-time report from SteamCharts clocks the game in with 97 players during a 24-hour peak, with only 71 players online as of 2:10pm ET.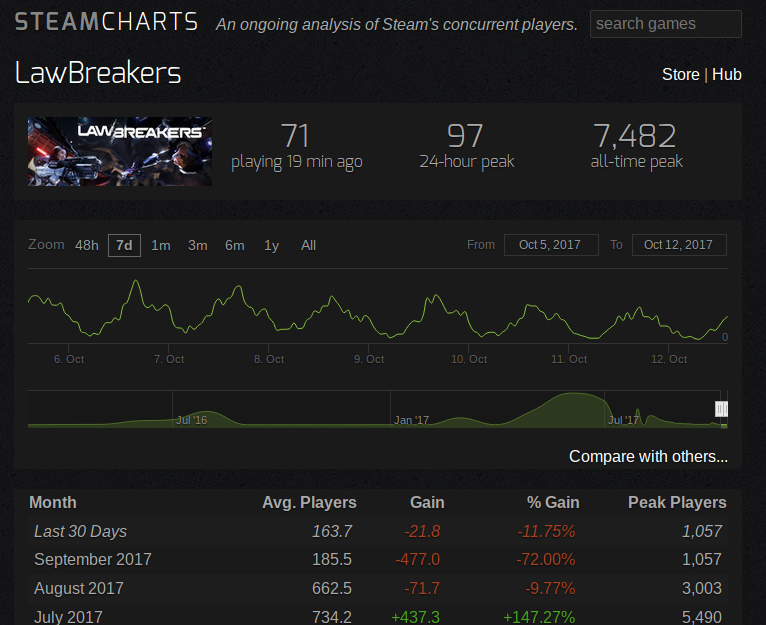 On average, LawBreakers saw 662.5 players in-game during August 2017, with 185.5 during September 2017. As of 2:30pm ET, SteamCharts states that 163.7 players have hopped into the game on average in the past 30 days, meaning LawBreakers' playerbase is gradually dwindling.
For now, it's unclear if LawBreakers will gain more players in the future. On Steam, some players blame the game's 1.4 patch, which added regenerative healing and significantly changed the game's pacing. Others point to ongoing matchmaking issues, including spotty support in certain regions. Perhaps most of all, LawBreakers simply entered a market ruled by Overwatch's incredibly addicting MOBA-like gameplay. For some, LawBreakers appears way too similar to pick up.
Whatever the reason, LawBreakers may not survive for much longer. Still, for players who want to give the game a try, it's available for $29.99 on both PC and PlayStation 4.