LawBreakers Gets Another Free Weekend as Playercount Drops
As far as Cliff Bleszinski's first-person arena shooter LawBreakers goes, the game's playercount has dropped to some startling low numbers in the past couple weeks. So in an attempt to get more people to buy the game, publisher Nexon is hosting yet another free weekend for LawBreakers on Steam.
Here's how it works. From Nov. 9 to Nov. 12, anyone can hop onto Steam and play the game for free. Alongside the free weekend, a 50 percent off discount will run for the game from Nov. 8 at 1pm ET to Nov. 14 at 1pm ET on Steam, and Nov. 7 at 11am ET to Nov. 14 at 11am ET on PlayStation 4. There's even a LawBreakers Collector's Edition giveaway going on, because clearly LawBreakers' deluxe version is at the top of every gamer's Christmas list.
"There has never been a better time to convince your friends and family to Get in the Game," LawBreakers community manager Lumos wrote on Steam. "So, be sure to tell your friends who haven't yet jumped into the chaos of zero-g that this is the chance they have been waiting for."
Just to put things into perspective, LawBreakers previously had a free weekend in late September with a 25 percent off discount. The game also had an open beta over the summer. That means in the past year, Nexon launched at least three initiatives where newcomers could come in and sample the game without paying a cent.
In the meantime, LawBreakers' player count continues to dwindle, with only 44 Steam players online in a 24 hour peak according to Steam Charts. Wednesday morning, the game even dropped as low as nine players online. That's not a good sign, to say the least.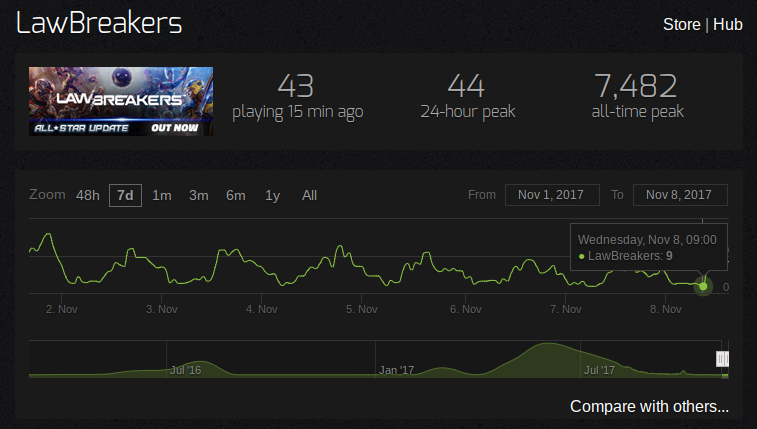 In the meantime, players who want to give LawBreakers a shot can pick up the game for PC and PlayStation 4 now.