There Are Loot Boxes In Assassin's Creed Origins, One Of Them Is Called Heka Chest
Ubisoft's upcoming Assassin's Creed game, Assassin's Creed Origins will have LOOT Boxes. Yes, you read it right, there will loot boxes in Assassin's Creed Origins that players will be able to purchase with the in-game currency. It was first discovered by a Neogaf user Duchess O'Death in one of the video previews of Assassin's Creed Origins (you can watch the video below, it appears at 2:30). The loot box is called as "Heka Chest", marked as Mystery Item, and in-game description of it reads: "Contains one random weapon or shield. Opens automatically on the purchase."
There is no official confirmation yet from Ubisoft on the appearance of Loot Boxes in Assassin's Creed Origins, however from what we have seen in the below footage, these loot boxes are will have One Random Weapons or Shield, and players will be able to open it automatically on the purchase. To purchase these loot boxes, players will have to use in-game currency only – as the loot boxes are called Heka Chest, I am expecting there will be something called as Helix Credit in the final build of Assassin's Creed Origins which you will use to buy these Heka chests.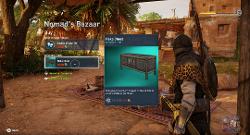 Awaiting an official announcement from Ubisoft, but my opinion is that they are going to take their time to issue a clarification on this because just a few weeks time is left for the official launch and they don't want any unnecessary controversy.
Assassin's Creed Origins is scheduled to launch on October 27 for PC, PlayStation 4 and Xbox One. There will be an Xbox One X update for the game and Ubisoft is calling it as the best and most beautiful version of Assassin's Creed Origins among all, and for those who have an Xbox One X and a 1080p, Ubisoft has confirmed that they are working on at 1080p/60FPS mode for them.
Source: Neogaf