Capcom is holding a special livestream for Mega Man's 30th anniversary
Mega Man fans may want to tune in next week to a special livestream celebrating the series' 30th anniversary. 
Capcom sent out a special card to members of the press in anticipation of the stream, which Siliconera posted in full: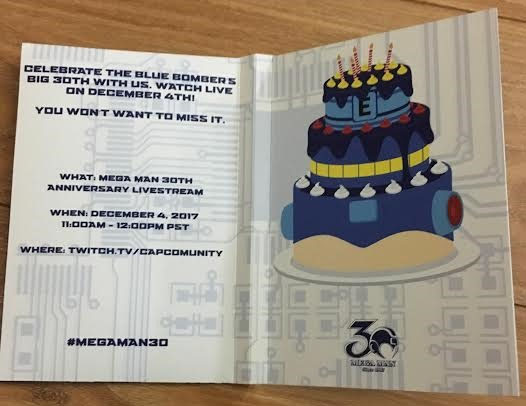 "Celebrate the Blue Bomber's big 30th with us," the card reads. "Watch live on December 4th! You won't want to miss it!
What: Mega Man 30th Anniversary Livestream
When: December 4, 2017 from 11:00 a.m. to 12:00 p.m. PST
Where: twitch.tv/capcomunity
#MegaMan30″
What could Capcom be teasing? It could all be related to a comment Mega Man Legacy Collection 2 producer Kazuhiro Tsuchiya made back during Tokyo Game Show 2017. 
"I want to say that Capcom has not forgotten about Mega Man," Tsuchiya said during an interview this past September at the show. "Mega Man's 30th anniversary is coming in December. December, please remember that date!"
Perhaps a remastered collection or a new entry in the series is coming. Whatever the case, it's an exciting milestone in Mega Man history, so it's probably a good idea to tune in even if you only have a passing interest in the games.