Here's each US state's most wanted target in Pokémon Go
It's been one year since the release of the popular mobile game Pokémon Go, and many people are still trying to catch their favorite pocket monsters in the wild.
We now know which Pokémon is the most wanted in each US state, thanks to a blog post on Decluttr that is celebrating the game's one year anniversary. The same information was mined a year ago when the game first launched, and some interesting tidbits can be pulled from the data that Decluttr has found.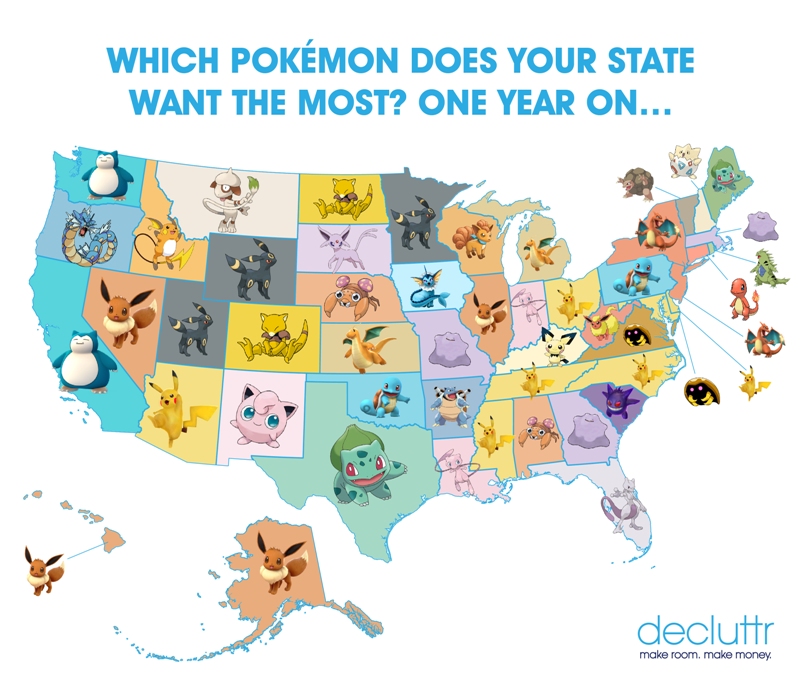 Unsurprisingly, the most popular Pokémon is Pikachu, who is wanted the most in a total of six different states. Pikachu has always been one of the faces of the franchise, thanks in large part to its role in the animated cartoon and even the GameBoy game, Pokémon Yellow. In second place is Eevee, who is most wanted in four states.
Five states seem to be stuck in the past, as they have the same most wanted Pokémon in 2017 that they did when the game first launched. Those states are Arizona (Pikachu), Delaware (Pikachu), Florida (Mewtwo), Mississippi (Pikachu), and Iowa (Vaporeon).
Eight states have since moved on to the second generation of Pokémon, which were released in February. That update greatly increased the amount of Pokémon that could be collected. The states looking for "Gen Two" monsters are Kentucky (Pichu), Minnesota (Umbreon), Montana (Smeargle), Togepi (New Hampshire), Tyranitar (Rhode Island), Utah (Umbreon), and Wyoming (Umbreon).
The full list of each state's favorite Pokémon can be found on Decluttr's blog post.