Naughty Dog Explains Uncharted 4: A Thief's End E3 vs PSX Demo Graphics Differences, Receives Support From GTA V Dev
At PlayStation Experience event, Naughty Dog showcased the first gameplay demo of the next installment in Uncharted franchise, Uncharted 4: A Thief's End. The graphics/visuals details in the demo were of top notch and never seen before in any other video games, but still it fell short of the graphic details in debut teaser trailer of Uncharted 4: A Thief's End which was showcased at E3 2014, all those nasty "DOWNGRADE" controversy started all over again.
Naughty Dog 3D Environment Artist Anthony Vaccaro via Polycount Forums explained the differences between Uncharted 4: A Thief's End E3 Trailer vs Gameplay Demo PSX and why there was no downgrade. Anthony provided an explanation on the following comparison image posted on Polycount forums.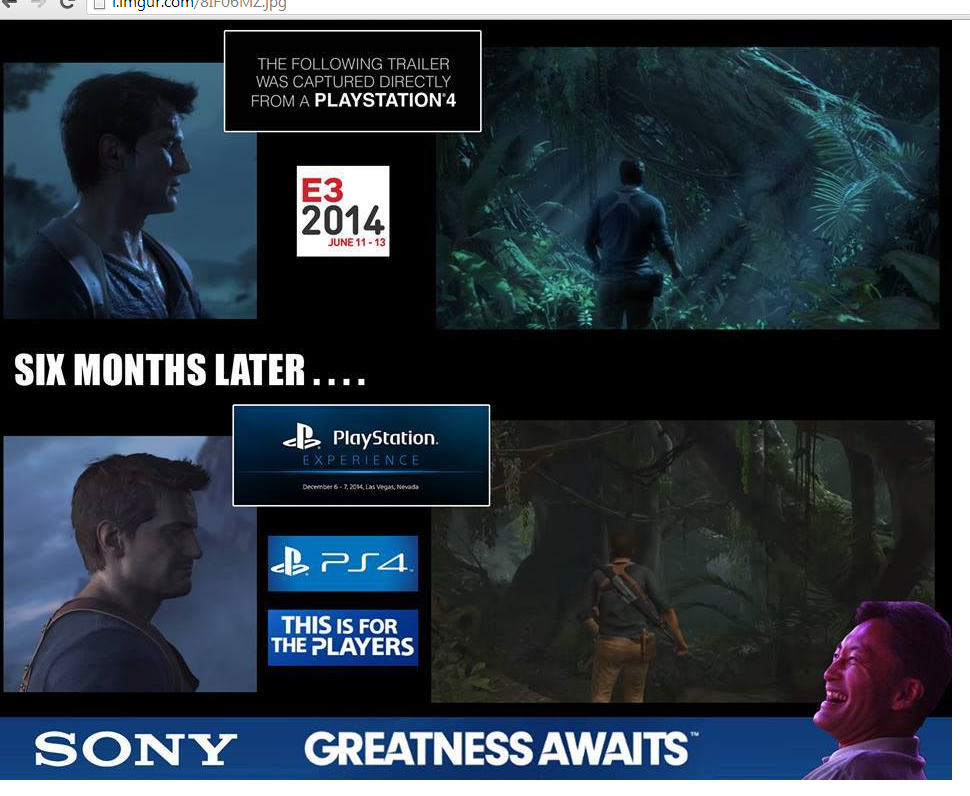 Here are just a couple of things about those comparison shots.

1.Time of day is different in both. – Our first trailer is at night, moonlight. Our gameplay demo is early morning. So the moonlight is slightly over exaggerated to give more contrast to give it that night feeling but enough light so you can see whats going on. Dawn is not a time of day where you have a lot of contrast.

2. His face is so spec-y [editor's note: specular] in the first image! – Have you seen the trailer? He literally just gets up out of water so his face/chest/shirt are wet and have a high sheen. Bottom one he is not wet so of course he looks dry.

3. Trailers are Art Directed for every frame – A trailer is not gameplay so we have the ability to do a lot of art direction in that shot, that could otherwise hamper gameplay. It allows us to give a lot more emotion to a trailer.
Surprisingly, Anthony received support from the Rockstar North Principal Lighting Artist Owen Shepherd (the men behind stunning Lighting Tech in GTA V). Owen defended Naughty Dog's work in E3 2014 trailer and PSX Gameplay demo by stating:
There's a difference in what you can do for a trailer and actual in game, not in respect to technology but in terms of art direction.

For example, you have a dynamic exposure system, you tend to have to be conservative for in game to avoid players not being able to see, this will then mean that your cutscenes need to be consistent with the game, so you tend not to have as much deep shadowing and less contrast.

You don't have these issues with a trailer that's viewed in its own bubble.

Having said that, the image above looks like its in the wrong colour space giving it the washed out look that i didn't see when viewing the trailer in some video players.

I honestly think you could get 90% similar images in similar lighting conditions.

I think it looks great, looking forward to playing the shit out of it.
Tell us in the comments what do you guys think: Was there a graphics/visuals downgrade in Uncharted 4 PSX Gameplay demo as compared to E3 2014 Reveal Trailer?