Nintendo: No Information On Nintendo Switch Online Service Until After Launch
Nintendo has hardly shared anything concrete related to Nintendo Switch's Online Service, and it seems like this status is going to remain the same for many more weeks to come. According to the details revealed by Nintendo on their official website, we won't be getting any more news on the Nintendo Switch Online Service until after console launches.
Nintendo has put up a special note in the regard on their official website. Here is what it reads: "Check back for more details on the service and its features after the Nintendo Switch system launches".
Nintendo's Yoshiaki Koizumi (the man who is known for his work on the Mario and The Legend of Zelda series, Deputy General Manager of the Nintendo's Entertainment Planning & Development division) hinted the same in a recent interview (as shared by Analysis Daniel Ahmad on Twitter).
Koizumi said: So the online service is very important to Nintendo's strategy, the most important thing for us is making the experience that much more fun for players. And so that's what really drives us into what kind of features to include. With that in mind, we have several services planned that I'm sorry I can't talk about right now, but one thing I am able to mention to you is you will be able to use a smart device to chat with people you are playing with online.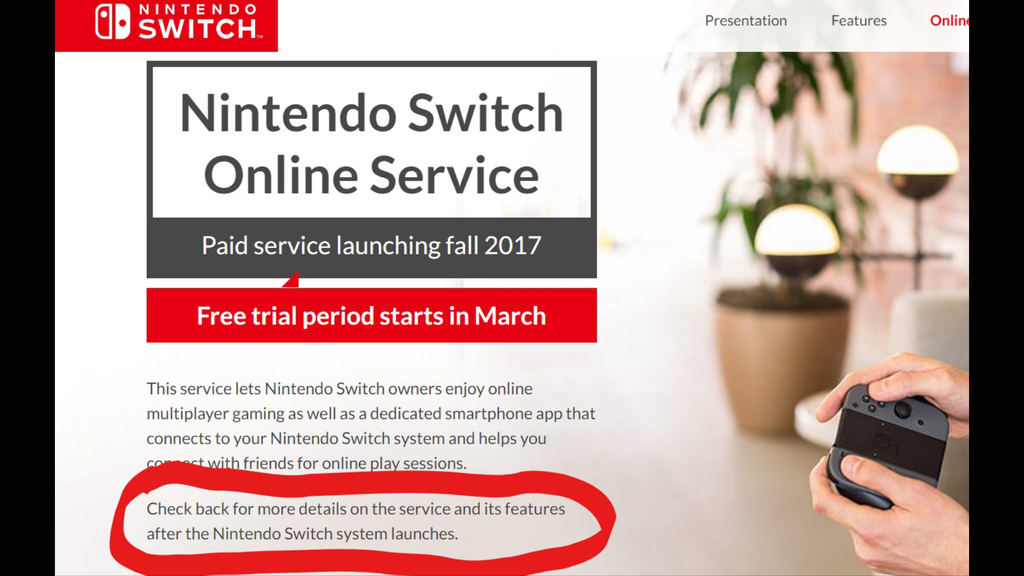 So, folks, the message from Nintendo about Online Service details is pretty clear. Check out the price point Nintendo has hinted for their Online Service.
"Our console, which is coming out in 20 days in 2017, will have online services. But we can't talk about it yet." pic.twitter.com/KzAOBxP6cV

— Daniel Ahmad (@ZhugeEX) February 12, 2017