Nintendo: Switch Owners Largely Prefer Using Both Docked and Undocked Modes
How do you prefer to play with your Nintendo Switch: on the TV, on-the-go, or using both modes? New data straight from Nintendo's latest financial briefing reveals how gamers around the world are using their Switch. And it seems that between region, versatility reigns more than any other play style.
Over the course of the year, Nintendo gathered data on registered Nintendo users' preferred gameplay trends in Japan, Europe, and the U.S.. The company gauged for whether players were using TV Mode or Tabletop/Handheld Mode the most. For the unfamiliar, the former requires the user to dock their Switch and connect it to a TV via an HDMI cable, whereas the latter is used during portable play while away from the TV.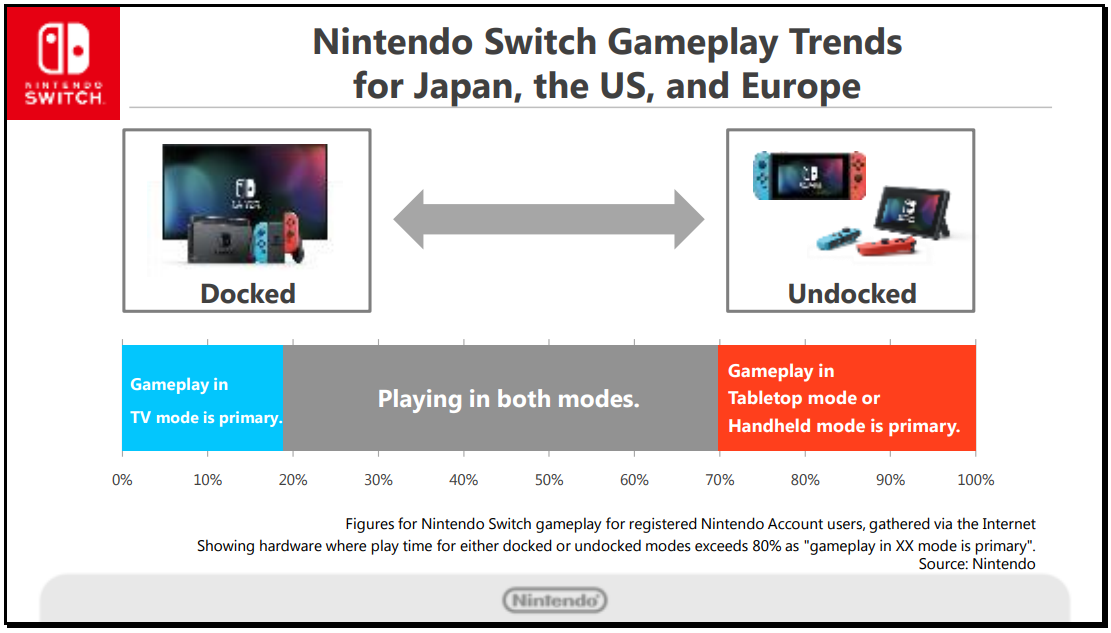 As it turns out, most Nintendo Switch owners prefer playing in a mixture of TV and handheld mode. Among Switch players, 50 percent use their Switch primarily with both modes, showing no dominant preference between the two. Meanwhile, only 20 percent primarily use the Switch's docked mode, while 30 percent largely enjoy using their console away from the TV.
Those statistics are good news for Nintendo. Generally speaking, that means the Switch is largely being used the way Nintendo intended: seamlessly between on-the-go and docked TV play.
That said, it may be too early to tell whether these statistics will largely stay the same over the coming years. But so far, Nintendo hit the mark with the Switch's combined portable and home console capabilities. Let's hope other hardware developers are paying attention.