PS Plus Free Multiplayer Weekend Announced: PS4 Games Multiplayer Will Be Free From January 16-18
You can call this an incentive from Sony or anything you like: Christmas Gift, New Year Gift or whatever you can, the good news is that Sony is offering "Free Multiplayer Weekend" for PlayStation 4 owners who don't have PlayStation Plus subscription.
According to details shared by Sony, multiplayer for PlayStation 4 games will be available for free from January 16-January to 18 for all those who don't have PlayStation Plus subscription. You can check out the snapshot of the announcement below (captured and shared by reddit user MonsterTheGreatest).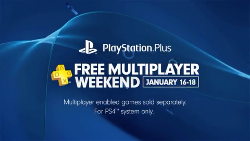 For those who are unaware, the requirement for PlayStation Plus subscription for multiplayer games started with PlayStation 4, and it is just a PlayStation 4 thing. Most multiplayer games has this requirement however any free-to-play games like War Thunder does not need it. Another example is Destiny, it does a thing where players don't need it except for Raids and multiplayer.
So, PlayStation folks what are you waiting for, start preparation for multiplayer session with your friends who doesn't have PlayStation Plus subscription.
Source: Reddit