PS Plus November 2017 Free Games Leaked via PlayStation Germany [Updated]
PlayStation Plus November 2017 Free Games official announcement is going to take place at some point later today, but it seems like someone at PlayStation Germany jumped the ship a bit too early and has leaked the free games that is going to be available to all PlayStation 4 owners with PS Plus subscription in the month of November 2017.
The following image is taken from the PlayStation Germany Page. It carries a list of PS Plus Free Games for October 2017 i.e. MGS V: The Phantom Pain and Amnesia Collection. In addition to this, there is also a text which on translation states that PlayStation Plus Free Games for PS4 for November 2017 is "Worms: Battlegrounds and Bound". Also, That's You will still go to be available for free as the game is still a part of Sony's PlayLink promotion.
You guys can check out the image below for confirmation. This is what the translation of the text reads (Google Translator): "From November 7th you can watch Worms: Battlegrounds and Bound and the PlayLink party game That's You! as a special bonus."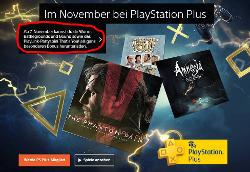 Take this as a RUMOR – I personally expect the games listed above to be a part of PlayStation Plus November 2017 free games line-up. We are surely going to find it out later today.
UPDATE
Sony has finally announced PlayStation Plus Free Games for November 2017. The rumor that this month's PS Plus Free Games line-up is going to be the weakest in a while has turned out to be correct. You can check out the full line-up below along with the official trailer.
Worms Battlegrounds (PS4)
Bound (PS4/PS VR)
Until Dawn: Rush of Blood (PS Plus bonus – PS VR Required)
That's You! (PS Plus bonus – PlayLink)
R-Type Dimensions (PS3)
Rag Doll Kung Fu: Fists of Plastic (PS3)
Dungeon Punks (PS Vita & PS4)
Broken Sword 5: The Serpent's Curse [Ep. 1 & 2] (PS Vita)