PS Store Flash Sale For June 2016 Kicks Off, Upto 80% Off On Mad Mad And Telltale Games (Update)
Banners appeared on Reddit allow us to learn about a flash sale being conducted on North American PlayStation Store. The Flash Sale will begin today around 3PM-4PM EST and will end on June 27, so you have enough time to choose what you can get at a budget price if you live in North America.
What's on offer, then? The games involved with a 80% off are The Walking Dead: Michonne, the spin-off to the Telltale Games The Walking Dead series focused on the charming character of Michonne; Tales from the Borderlands, one of the most beloved Telltale series based on the popular Gearbox first person shooter franchise; and, finally, Mad Max, the appreciated open world action game from the creators of Just Cause.
All the games on offer are pretty old now, since they released last year at the very least, but we have to admit they're all great. Mad Max offers hours and hours of gameplay, maybe too many considering its possibly repetitive structure, while Michonne has the opposite issue being too short. Tales from the Borderlands is the best series from Telltale in the last few years, so you should definitely check it out.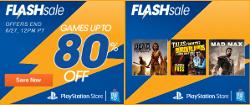 Update 1:
The wait is over, June 2016 PlayStation Store Flash Sale is now live, you can check out all the deals and exciting offers here.