PS4 Firmware 4.50 Adds Boost Mode For PS4 Pro, List Of Supported Old Games With FPS Test Result
Yesterday, Sony announced the details regarding new features coming to PlayStation 4 via Firmware 4.50. The list of features included external HDD support up to 8TB, custom wallpapers, Quick refresh menu, Simplified Notification List, Post on PlayStation Network Activity Feeds, and many other.
If you missed out on the announcement then check out our coverage on it here. Sony made the announcement via PlayStation Blog with a message that the features announced above are just the handful ones, there are many others which will be revealed in coming days.
It seems like a keen-eyed Neogaf user managed to discover one of the hidden features in PlayStation 4 Firmware 4.50 ( a feature that was not included in the official list from Sony). Firmware 4.50 adds a BOOST MODE for PlayStation 4 Pro. What this mode does is that it improves FPS performance (higher FPS) for old games which don't have PlayStation 4 Pro patch.
Here is what the official description of Boost Mode reads:
"Experience improved gameplay, including higher frame-rates, for some games that were released before the introduction of PS4 Pro. Turn this off if you experience unexpected behavior during gameplay."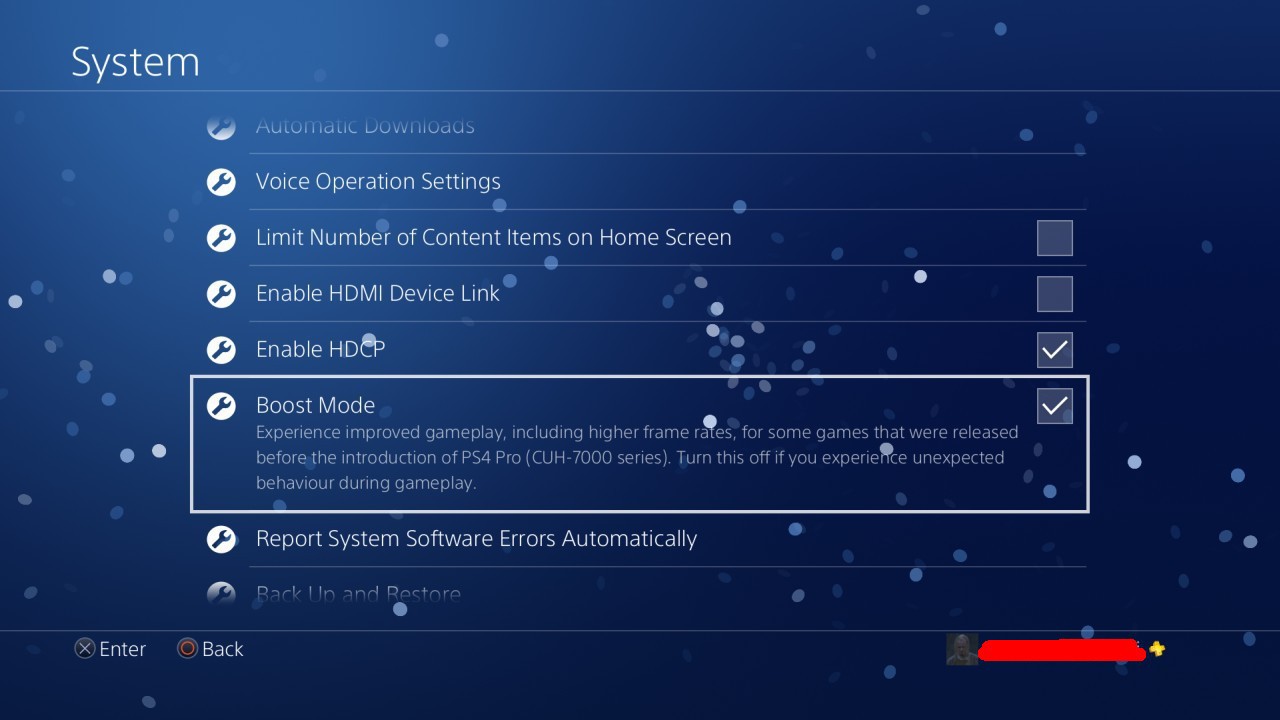 Reddit user SG-17 started a thread listing out (confirmed list) Old Games that shows noticeable improvement in BOOST mode.
List of games tested by Neogaf users along with the result:
Until Dawn – much better performance
Bloodborne – better still frame pacing issues though
Just Cause 3 – almost a different game, better framerate
Mad Max – better performance
YAKUZA 0 – better when roaming city
Evil Within – better framerate and faster loading
Rainbow 6 Siege – runs at 110 FPS in Terrorist Hunt
Furi – Better, MUCH less screen tear at the start of the game.
Fallout 4 – Seems locked to 30FPS now, aside from occasional hitches which I'd assume are streaming issues.
Homefront Revolution – Garbage game still, but again, now seems a pretty much locked 30 FPS.
Saints Row 4 – Still not a locked 60FPS unfortunately. Although it's undeniably closer. To hazard a guess I'd say it's now constantly between 50 and 60. It does spend a fair bit of time of 60FPS however which it didn't before (unless you pointed the camera at the floor or the sky etc)
Grow Home – Still absolute trash performance wise
Vanishing Of Ethan Carter – Now locked 60FPS, even in trouble sops like near the railway line and on the curve near the two houses.
Battlefield 4 – in a 64-player conquest match now runs like a dream. The visuals are really hard to go back to, but the performance is smooth as fuck now
Assassin's Creed Unity – Runs at stable 30FPS now. No more drops.
Dying Light – No more frame drops
Star Wars Battlefront – ran 98% perfectly before, 100% solid 60FPS now, even with tons of alpha effects.
Assassin's Creed 4 – handful of frame drops resolved
Far Cry Primal – handful of frame drops resolved