Xbox Website Updates PlayerUnknown's Battlegrounds Listing As Console Exclusive To Xbox One
Team Xbox and Bluehole have finally announced the release date of PlayerUnknown's Battlegrounds for Xbox One. The game will be available on Xbox One starting from December 12 through Xbox Game Preview Program which means PUBG will be available on Xbox One starting from December 12 as an early access and development team is going the same community-driven focus route for the development of Xbox One version of PUBG. We have already seen this approach in the PC version of PUBG.
This is what Chang Han Kim, CEO of PUBG Corp said in a post on Xbox website: "Beginning December 12, Xbox fans will be able to play PUBG while it's still in early access through the Xbox Game Preview program. We're approaching development on Xbox One with the same community-driven focus that we've taken with the game on PC. As a result, the ultimate battle royale experience that fans play on Xbox One will be slightly different than what players know today on PC."
The availability of the PUBG on Xbox One via Xbox Game Preview program was one of the thing caught our attention from today's official announcement. There was one more thing that made came as a surprise to me – Microsoft listed PlayerUnknown's Battlegrounds as the "Xbox One Console Exclusive" on their official website. We have the screenshot of the listing below for you. Take a look.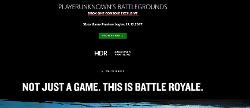 At this year's E3, PlayerUnknown's Battlegrounds was listed as console launch exclusive, another term used nowadays for "Timed Exclusive" content and games. Last month, Bluehole revealed that they are in talks with Sony to bring the PUBG to PlayStation consoles and then a few weeks later came a news that Microsoft is in talks with the Bluehole to extend their partnership for PUBG.
Does this mean the updated listing on official Xbox website is the result of Microsoft cracking the deal with Bluehole to make PUBG a console exclusive to Xbox One?
What do you guys think? Share your opinion with us in the comment section below.