DrDisRespect's ban shows that no one is above the law in PUBG
Twitch has always been a great form of entertainment in gaming, and PlayerUnknown's Battlegrounds is at the forefront of the site right now.
DrDisRespect is one of Twitch's biggest names, and can routinely be found at or near the top of the PUBG directory. While some streamers play the games as themselves, The Doc plays a character in a costume each and every day. Sometimes, the character can become a bit too much, and this is one of those cases.
It all went down late Monday night into early Tuesday morning, as a spectacle including high-profile Twitch broadcasters took place. It was a veritable "who's who" of top PUBG streamers as The Doc, joined by Grimmmz and Anthony_Kongphan, participated in squad games together and set the PUBG world ablaze.
Tens of thousands of people were watching across all three channels. In one of the games, a random fourth squad member from matchmaking took the last seat in a three-person motorcycle. DrDisRespect took exception and team-killed him. Team-killing is against the game's rules of conduct. DrDisRespect was soon banned for an unknown period of time.
The story does not end there, however, as Brendan "PlayerUnknown" Greene himself addressed the situation on Twitter, leading to a series of tweets about the subject between The Doc and himself.
Still in character, as always, DrDisRespect replied and escalated the situation.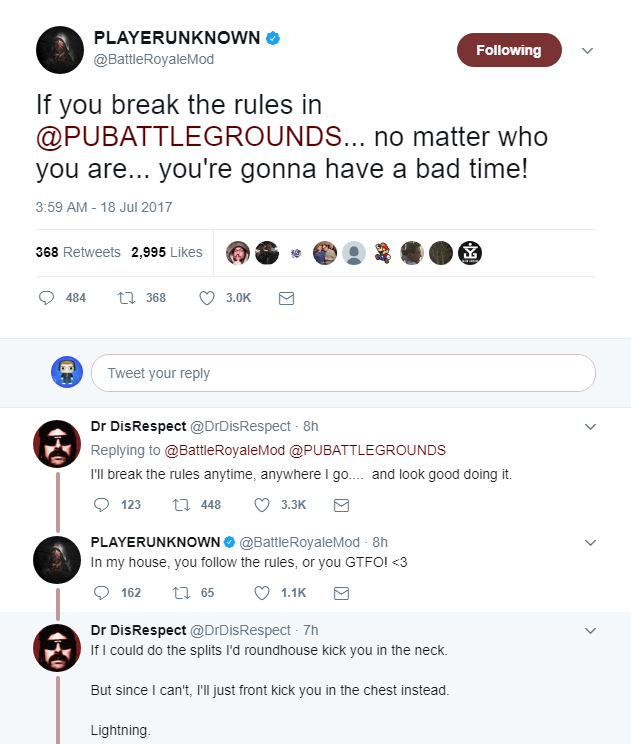 It was an interesting decision to take a swipe at the creator and developer of the game DrDisRespect plays every day in front of thousands. But it did not pay off, as Greene did not take kindly to the threat, following up with a series of tweets explaining why he was upset by it.
It was an unfortunate ending to what was a pretty cool few hours for PUBG fans on Twitch, but it is proof that no one is above the law when it comes to breaking the game's rules of conduct.