ReCore Just Got Delayed To December 2016 For PC and Xbox One, According To Amazon (Update)
ReCore might have been delayed, according to Amazon UK. The popular online retailer just sent an email to one of its customers who pre-ordered a copy of Armature Studio and Comcept Inc. $40 action adventure, pointing out the title can't be shipped at the initial release date of September 13, revealed a few weeks ago at E3 2016.
Based on information gathered by Amazon, the estimated arrival date, and therefore the new release date, should be December 16, 2016. So the game could have been silently delayed by three months, despite the official release date has been just communicated.
That doesn't make much sense, we must admit, and luckily enough Amazon US and EU keep providing the September 13 release. Microsoft's store page still has the game listed for September, so in the wait for an official news from the developers or the publisher we won't give the delay for granted.
ReCore is shipping on Xbox One and PC.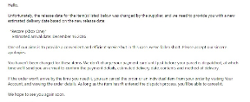 Update 1:
According to the Recore official Twitter account, there is no change in the release date of Recore for Xbox One and PC. Commenting on the release delay rumor, Recore Official Twitter account said: "No changes here! This is a question best for your retailer. Try "
@ReCoreGame Hey I noticed @AmazonUK has ReCore listed for release on Friday, 16 December. Has the game now been pushed back?

— Sono (@xSonoshee) June 22, 2016
@xSonoshee @AmazonUK No changes here! This is a question best for your retailer. Try @AmazonHelp.

— ReCore (@ReCoreGame) June 23, 2016