Square Enix Confirms FFVII Remake and KH3 Not Releasing Before April 2017
According to the details just published by Square Enix, Kingdom Hearts 3 and Final Fantasy VII Remake is not going to release during current financial year, which ends on March 31, 2017. In their earnings presentation today (attended by our friend at VideoGamer), Square Enix listed out "Major Titles" due to release in 2016 and both these titles were missing from the list. In addition to these titles, NieR: Automata also did not make it to the list.
Here are the major titles that Square Enix listed to release during Fiscal Tear Ending on March 2017:
Deus Ex: Mankind Divided – August 23, 2016
Final Fantasy XV – September 30, 2016
Rise of the Tomb Raider – Holiday 2016
World of Final Fantasy – 2016
Kingdom Hearts HD 2.8 Final Chapter Prologue – 2016
SaGA SCARLET GRAVE – 2016 (Japan)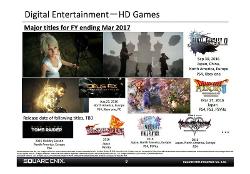 No clarification was shared as to whether this list is final or many unannounced games will be added to it in future. Both Kingdom Hearts 3 and Final Fantasy VII Remake are most awaited games, it has been three years since the official announcement of KH3, whereas FFVII Remake was officially unveiled at E3 2015.