Super Mario Odyssey Pre-load Now Available On eShop, Size 5.2GB
Super Mario Odyssey, the biggest Nintendo Switch exclusive release for Holiday 2017 is now available for pre-load. As per the details, we received from NeoGAF user Knkng and Grylvak – Super Mario Odyssey pre-load build currently available in North America and Japan eShops and the size of the build is 5.2GB only. For confirmation of the story – following screenshot was shared.
Super Mario Odyssey is scheduled to launch worldwide on October 27 exclusively for Nintendo Switch. The game returns to the primarily open-ended, exploration-based gameplay previously featured in Super Mario 64 and Super Mario Sunshine. Select few media outlets like Edge Magazine and Famitsu have already played and completed Super Mario Odyssey from the start to the end – and both these outlets were given permission by Nintendo to release their Review Score for the game.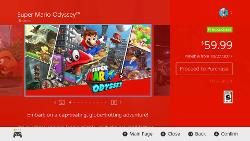 Edge Magazine awarded Super Mario Odyssey a perfect review score of 10/10 and called it an "A True Reinvention Of The Sandbox Platform", whereas Famitsu gave it a review score of 39/40 (10/10/9/10) – all 4 reviewers opinion were recently leaked on the internet.
If you are looking forward to playing Super Mario Odyssey on the launch day itself then I would recommend you to start pre-loading the game right now. So that you get to play the game the moment it unlocks on October 27. In the meantime watch the Super Mario Odyssey new trailer below.