The Legend of Zelda: Breath of the Wild Releasing Before April 2017: GameStop
According to GameStop, Nintendo Switch is receiving The Legend of Zelda: Breath of the Wild before April. Recent rumors reported that the open world game in the Zelda series could be releasing not before Summer, getting a new delay in what the fan expected to be its launch window – March 2017 together with Switch, but to be honest, Nintendo never went further than a generic 2017.
Based on promotional material from GameStop, now, Breath of the Wild is in the middle of Q1 2017 releases, which means that the game could ship in a timeframe between January and April itself. April would be of course just one month after Nintendo Switch launches, and would further give an idea of what Nintendo wants to do with its first party titles after failing to keep constant releases with Wii U.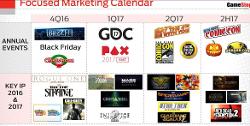 Anyway, the slide where GameStop added The Legend of Zelda is called "Focused Marketing Calendar," and could possibly be referred to when the marketing about each specific game could start next year in stores. Anyway, GameStop executives pointed out that those launch windows actually mean that each title would release by the time reported. So, The Legend of Zelda: Breath of the Wild releasing before April. Your thoughts?