Uncharted 4: A Thief's End Character Model Comparison Screens Show Startling Improvement, True Next-Gen Graphics
Uncharted 4: A Thief's End is indeed something big from Naughty Dog. We just saw a gorgeous looking in-game trailer of the game that was captured directly from PlayStation 4. Want to check out graphics/visual leap from PlayStation 3 to Playstation 4? here are comparison screens of Nathan Drake's Character model from Uncharted 3 to Uncharted 4: A Thief's end. This is what we called true: next-gen graphical experience.
Naughty Dog has confirmed that Uncharted 4: A Thief's End is powered by Naughty Dog's engine and will run at glorious 1080p/60 FPS. The developer also confirmed that Here is a comparison screenshot showing you the differences.Nathan Drake's character model in Uncharted 4: A Thief's End is over double the polygons of Joel from The Last of Us PS3.
The official synopsis of Uncharted 4: A Thief's End: Several years after his last adventure, retired fortune hunter, Nathan Drake, is forced back into the world of thieves. With the stakes much more personal, Drake embarks on a globe-trotting journey in pursuit of a historical conspiracy behind a fabled pirate treasure. His greatest adventure will test his physical limits, his resolve, and ultimately what he's willing to sacrifice to save the ones he loves. Uncharted 4: A Thief's End will be available in 2015.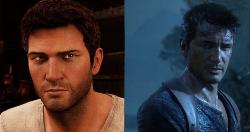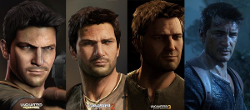 Here is what Quantic Dream was able to achieve on PlayStation 3 i.e eight-year-old hardware. Don't you think next-gen gaming finally arrived with Uncharted 4? Share your views with us in the comment section below.