Wolfenstein 2 DLC Release Dates Revealed
Wolfenstein 2: The New Colossus' DLC was previously announced a little while back, with Episode Zero already out for anyone who preordered the game. As it turns out, Bethesda has since revealed the release dates for developer Machine Games' upcoming The Freedom Chronicles DLC.
Anyone who didn't pick up Episode Zero can grab the DLC now via the game's Season Pass. Episode Zero covers resistance fighters Jessica Valiant, Gerald Wilkins, and Joseph Stallion as they try to liberate the American Territories from the Nazi invasion.
Then there's The Adventures of Gunslinger Joe, where former quarterback Stallion fights through Chicago and space to kill the Nazi menace. That DLC episode launches on Dec. 14.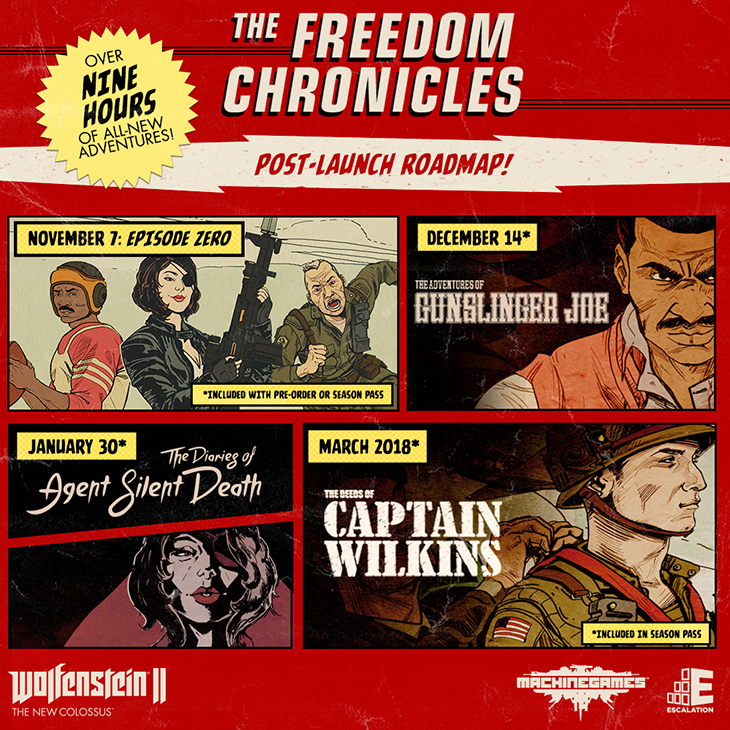 Stallion's story is then followed by The Diaries of Agent Silent Death on Jan. 30, which follows ex-OSS agent and assassin Valiant's story as she works her way into a Nazi bunker in California. And last but not least, there's The Amazing Deeds of Captain Wilkins in March 2018, which follows U.S. Army Captain Wilkins in a journey to Alaska to thwart Operation Black Sun.
There's two ways to grab the upcoming Wolfenstein 2 DLC. Players can buy the $24.99 Season Pass, which grants players the entire Freedom Chronicles collection along with Episode Zero. Alternatively, players can pick up each DLC separately.
It's unclear how much The Adventures of Gunslinger Joe will cost, but for the time being, picking up the Season Pass will most likely be the best option. Wolfenstein 2: The New Colossus is available now for PC, PlayStation 4, and Xbox One, with a Nintendo Switch launch on the way next year.