Wolfenstein II Alternate Cover Leaked
Wolfenstein II, the next installment in the Wolfenstein video game franchise from Bethesda and MachineGames is all set to launch worldwide on October 27 (the same day Assassin's Creed Origins), and in 2018 on Nintendo Switch. This time around the lead protagonist B.J Blazkowicz is going to go against the Nazi regime in the United States. We have seen a lot of gameplay videos and trailer of Wolfenstein II – and the game is looking absolutely stunning on current-gen consoles. Few lucky gamers have already got their hands onto the retail copy of the Wolfenstein II – it comes with an Alternate Cover which looks much better than the Actual Cover that Bethesda has used for the game.
You can take a look at the alternate cover of Wolfenstein II below. It features the same art that appeared on the official artbook of the game. Which one do you like the most – the Alternate Cover or the cover that Bethesda used for the promotion.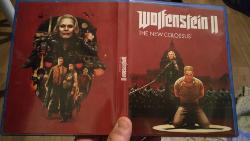 The events in Wolfenstein II takes place immediately after the first game – Wolfenstein: The New Order, the Nazi regime has occupied America following their victory of the Second World War. William "B.J." Blazkowicz and the militant resistance are trying to set up a second American Revolution against the Nazi regime. Frau Engel is hunting Blazkowicz, known to the Nazis as "Terror-Billy", in order to stop the Resistance.
Source: Reddit