Xbox One Wireless Display App Guide: How To Get It On Xbox One And Use It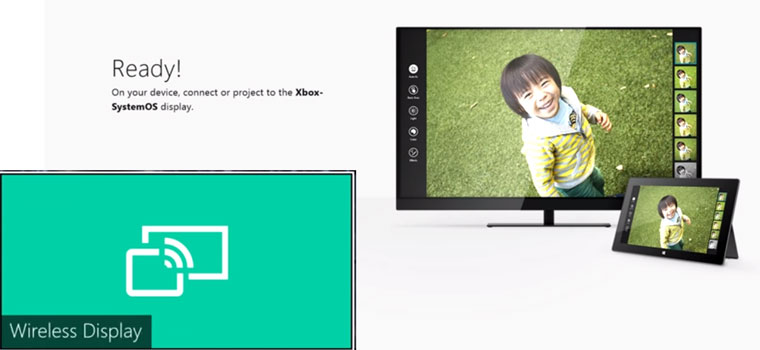 Microsoft has just released "Xbox One Wireless Display" App/Feature for Preview Subscribers. This new feature will allow Xbox One owners to project screen of some of their favorite devices to TV or monitor via Xbox One using Miracast.
[UPDATE 2019] – Xbox Wireless Display App is limited to Preview Members only, and now the app has been discontinued. You won't be able to locate it in the store. Microsoft has not made any official announcement in this regard and has also not made it clear whether the app will be available in the future or not. Thankfully, there are some other ways by which you can use to Project your Smartphone Screen on Xbox One Display. You can refer to the Update Section of this guide, starting from the second Main Heading (2. Xbox One Wireless Display App Replacement). The first part of the guide is old, we decided to keep the content live just in case the app appears again, and those tips will still be helpful.
1). How To Get Xbox One Wireless Display App & How To Use It
Microsoft provided complete details on how Xbox One owners can make Get And Use this Xbox One Wireless Display App.
Xbox One Wireless Display app allows you to project your favorite device screen to your TV through the Xbox. The Wireless Display app uses Miracast, which quite a few devices support to mirror or extend your screen, wirelessly. You may already have a device that you can project from, so give it a try.
Here's How To Get Xbox One Wireless Display App:
You can get the Wireless Display app via the Quest titled "Extend your screen." Start the quest to be taken to the Xbox Store page to start your download. Once it's finished you can launch the quest again to launch the app and start working through the scenarios we'd love for you to try.
How To Make Use of Xbox One Wireless Display App:
Launch the app, you will see your Xbox name on the screen, ready for a connection. Use your device interface to project your screen, mirror your screen or share your screen. Select your Xbox and voila!
If you need to change the name of your console, try using the app settings menu which has a link to your console's settings and change the name there.
Here is the list of some of the known issues in Xbox One Wireless Display App:
Projection of premium content is not supported. Projecting from apps like Netflix or Hulu+ will be blocked by your device as this is protected content.
Devices that enable HDCP protection at all times will not be able to project. like: Samsung Galaxy S3, S4, Note 2 and Sony Xperia Z Ultra.
In some instances, you may need to remove your Console from your device's display list in order to reconnect.
iOS devices do not support Miracast.
Please Note: This app is only compatible only with the latest Xbox One firmware, which is xb_rel_1505.150423-2200.
2). Xbox One Wireless Display App Replacement – Project Your Smartphone Screen On Xbox One Display
The core function of Xbox Wireless App is allowing you to share your Smartphone screen on TV or Monitor connected to Xbox One Console through Miracast. One of the common reason the app is no longer available is because of bugs and now we have Smart TV's. Ample new models support wireless display so you don't really need an Xbox One to project your Smartphone Screen. Instead, you can directly connect your Smartphone to a Smart TV with the help of Wireless Display technology.
Other than the outdated Xbox One Wireless Display app you can use paid app Airserver that comes for multiple platforms and allow you 60FPs Mirroring.
Requirement: Connect your Xbox One to your network using Ethernet (LAN) Cable, Miracast will be enabled by default.
How To Use Airserver To Mirror Smartphone Screen On Xbox One
For iOS Devices (iPhone):
Launch the AirServer app on the console and look for the QR Code. Next, on your iPhone launch the camera and scan the QR code. This will connect your iPhone to the Guest Network. Next, go to Control Center and tap on Screen Mirroring > AirServer.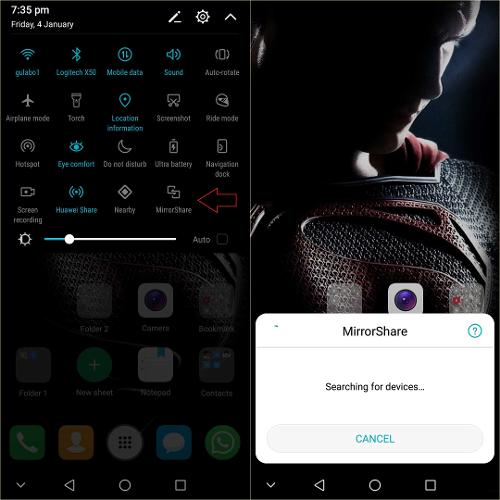 Check whether your Device is compatible with Miracast. Look for MirroShare, Smart View, AllShare, Quick Connect or Cast in the drop-down Notification Screen also called as Quick Settings. In my android device, it is available as Mirror Share. By tapping on it the device will start looking for Xbox One. Remember to keep the Smartphone and Xbox One on the same internet connection, use Wifi for Smartphone and Ethernet Cable for Xbox One for smooth bug-free mirroring. There is an Android App but does not support Audio so it is of no use.
For Windows 10 PC:
To use your Xbox One as a projecting device install AirServer Xbox Edition App (Paid App) from Store.
Install the Windows version from Microsoft Store for Windows 10 (1703 or higher)
Press Windows + K to open Connect sidebar.
Select AirServer from available Miracast receivers.
You can extend the screen view from Connect Sidebar > Change Projection Mode > Project > Extend.
To exit Mirroring press Windows + K and choose Disconnect.
For Older Windows and Linux:

Download and Install Google Chrome. Click on the three dots on the top right and from the menu select Cast.
Go to Cast To > Cast Desktop. Pick a Miracast Receiver from the list below Select Source.
Airserver does not guarantee you a smooth output, it all depends on device compatibility and your internet bandwidth. It is best recommended to try out the inbuilt wireless display a feature that easily allows you to share your Smartphone screen on big displays. This feature is not just limited to Miracast we have newer technologies. Even YouTube app offer you simple screens hare for YouTube apps only on Smart TV. You can use your Smartphone as a remote to control YouTube Videos on TV through the Mobile App.
That's it, hope the above guide will help you in mirroring your Smartphone screen. Do share in the comments section if you have a better idea or using a more simpler or a free version of an app that is available for the Xbox One console.