Nintendo details Xenoblade Chronicles 2 and its upcoming DLC
Xenoblade Chronicles 2 is touching down on Nintendo Switch in about three weeks, and this morning a special Nintendo Direct aired with a swath of new details about the forthcoming JRPG. 
The expansive role-playing game has a lot in common with its predecessor, with a detailed overview of battle mechanics, abilities, timed attacks, and the special arts players can use while locked in combat. For instance, equipping blades will find party members' attributes and various other stats altered. You can equip three different "arts" per blade, up to a maximum of nine, pulling off attacks accordingly as your turn wears on. It's a window to what looks like a nicely complex system that should play out well. 
Leveling up will be handled similarly to the previous game as well, as will "heart to heart" scenes where players interact with other characters to earn their affection and promote synergy in battle. In addition to leveling and combat, there will also be trading posts, trading guilds, and various other goodies to pick up and utilize along your journey. 
A feature that fans have been clamoring for since the game was also announced, dual-audio options, will in fact be included with the game. It can be played with either the English or Japanese voiceover track, depending on your preference. The free Japanese Voiceover Option DLC pack will be up for download on launch day. 
Additionally, there's a new expansion pass coming after the game launches that will roll out in a manner similar to that of The Legend of Zelda: Breath of the Wild's DLC rollout. The Expansion Pass roadmap will begin in December and run all the way through fall 2018, with the proposed milestones, seen below.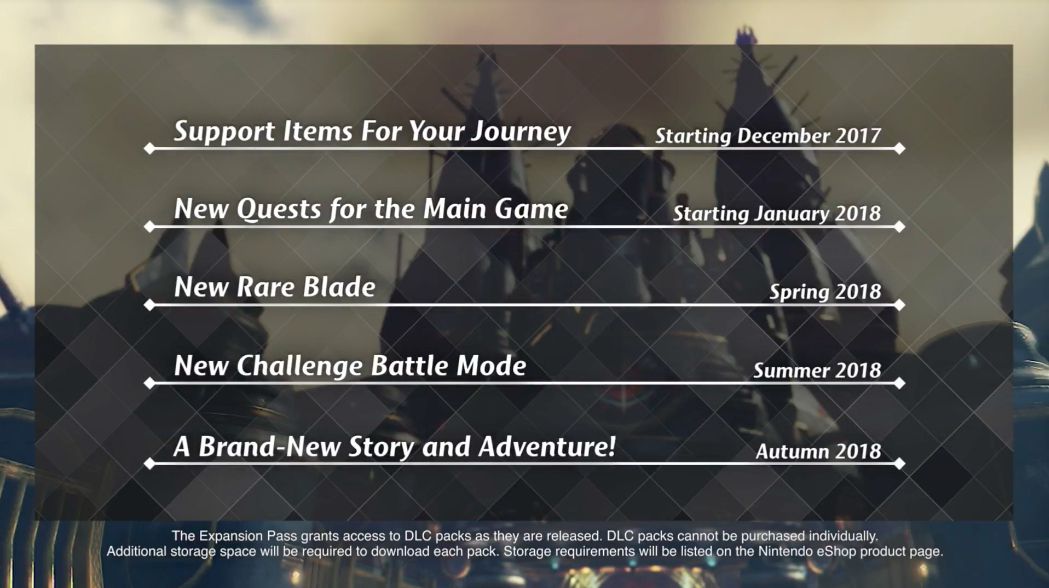 Nintendo stated during the Direct presentation that, even with all the information presented today, there's still a staggering amount of content to come. You can pick up the expansion pass right now if you think you need additional game time added into the base game, however, for $29.99. If you haven't already preordered Xenoblade Chronicles 2 proper, you can do so on Dec. 1 with the standard edition releasing for $59.99. Looking for something a little fancier? Nab the special edition with an art book, soundtrack CD, and various other goodies for $99.99. There's also a Pro Controller releasing for $74.99 emblazoned with a Xenoblade Chronicles 2 design. 
Additionally, The Legend of Zelda: Breath of the Wild is getting in on the fun with Xenoblade Chronicles 2's release, with a special side quest and bonus content coming to the game beginning this Thursday, Nov. 9. You'll get a new costume for Link that looks just like protagonist Rex's, and a new mission to embark on. This update is free, even if you're not picking up Xenoblade Chronicles 2. It's just a fun extra treat to play for fans of both games. 
There's a lot of RPG goodness coming for the end of the year, so if you need to clear your schedule to get it all in, you might want to start thinking about doing so before time rolls around to pick the game up.