WWE 2K17 Preview
Being a longtime fan of WWE and WWE 2K games, I was so excited to get my hands on WWE 2K17. I'm going to share my first impressions of WWE 2K17 with you guys. WWE 2K17 is not another street fighter game, it's a pure wrestling entertainment game, where you don't just wrestle but also become an entertainer.  
WWE 2K17 brings more characters to play with. You'll get the total of 169 characters including pre-order bonus, DLC characters and alternate versions of characters, which is pretty much more than enough . I enjoyed playing with Triple H from 2001 era.
The core gameplay is almost similar to what you experience in 2K16 but with added flavors to make it more engaging. You'll feel slow pace of contests with better mechanics. Hitting reversal is still crucial and hard as it was before, it should be little easy at least when you are playing against AI. Stats run same as before along with measurement of how entertaining and how dynamic set of moves you use, you get to see a 5-star rating of your match. You'll see this rating measurement throughout the match and get to now how much you are entertaining to the crowd, which makes you put more efforts in using various moves set and get close pins to make your match more dramatic. I also felt that crowd chants are more dynamic and realistic in 2K17 as compared to 2K16.
Having the Manager tag along with you or your opponent creates even more drama in your match in 2K17 in comparison with 2K16. For example, when you are doing match-winning pin, you'll find opponents manager jumping over the rope and distracting referee resulting in no count. I also played with Goldberg, and as a die heart fan of him, I enjoyed every bit of it. His move sets are quite similar to we used to see him perform in his time in WWE. You will get 2 alternate versions of Goldberg, one from WCW era and another from WWE era. Characters appearance are improved visually not only during cut-scenes but also in gameplay.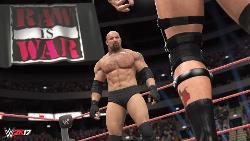 Backstage Brawl is new play mode in WWE 2K17. You can either select Backstage brawl as match type or you can select Falls count anywhere, No holds barred or Last Man Standing match type and go to backstage during that match. You can interact with even more objects than previous WWE 2K editions. Backstage brawl's result, heavily depends on how well you use nearby objects.  One more interesting thing to notice in backstage brawl is that winner gets decided by T.K.O, making it realistic to real backstage brawl you see in WWE shows. 
There is only one Backstage brawl stage available in game, I'm curious to see if we can use creation suite to create more backstage. As explained by 2K, Creation suite is an extra ordinary in-game tool to create almost anything from new championship belt to complete arena. Overall it's all about putting a good show, as WWE does, in real with RAW and Smackdown every week.
Enjoy our WWE 2K17 Gameplay (PS4): 
WWE 2K17 adds more flavors to career mode and reality to it by giving you tools such as cutting your own promo, initiating brawls against other superstars.  Career mode starts in a similar manner as it was in WWE 2K16, from the training center to NXT then level ahead as you perform. You are expected to meet Paul Hymen at some point with proposal to become his client/guy and get defying story line as Brock Lesner has, and if you go against Paul Heyman, Brock Lesner will welcome you to Suplex City, of course I couldn't experience all that in limited time I had in my hands on 2K17, but whatever I could (i have tried worked well) try worked really well.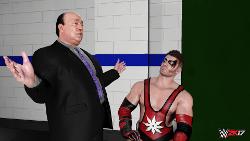 You'll definitely miss the presence of showcase content from WWE 2K16, I was hoping this year 2K will embed even more iconic moments in Showcase mode. Hope they will add showcase in WWE 2K17 as well in future updates.
I faced few bugs and glitches during gameplay, but  as it was the pre-release version I was playing, all bugs are expected to be fixed before WWE 2K17s official release. I played WWE 2K17 on PS4 for more than hour or so and I couldn't experience every feature of it, but this time WWE 2K17 brings a lot more to the table, I could easily spend all day on it without realizing the time. I'm Impressed with gameplay improvements as every match feels more dynamic. I'm looking forward to WWE 2K17 official release to get my hands on it again. WWE 2K17 releasing on October 11th for Xbox One, Xbox 360, PlayStation 4 and PlayStation 3. For PC, WWE 2K17 is in development as confirmed with 2K spokesperson during the preview.