Asus ROG GT51CA Gaming Desktop Review - For Those who prefer High-End!
Exceptional Branded Gaming PC's proficient to outshine benchmarking scores and deliver results on Pro gamers' expectations are rare. On the other side tracing precise configuration is challenging for those who prefer to assemble the exact components at the best possible budget they have. But that demands skills. A good way off is try branded solutions, designed to handle modernized gaming challenges like Asus GT51CA, powered by 6th Generation Intel Core i7, 64GB RAM and 2x8GB Nvidia GTX 1080 GPU Pascal, what more do you need? 
At Gamepur we are going to asses this system to find out, does it truly fits a gamer's requirement or just another expensive big tower. A glimpse of features and specification is listed below, before moving ahead with the design and performance in detail, you can have a look what Asus GT51CA is really made of. 
Features:
High end Hardware, play games at 4K
Aerodynamic-inspired futuristic design
8-million-color led effects
Full-core cpu overclocking
VR-Ready
Advance Cooling System
Front USB Type-C port
ESS Hi-Fi Audio
Wearable ROG Band to access Ghost Drive
Windows 10 Home Powered
Xsplit Gamecaster
Specification:
Processor: 6th Generation Intel Core i7 6700K Skylake CPU @ 4Ghz and Overclocked up to 4.6 GHz with push button.
Chipset: Intel Z170
RAM: 64GB DDR4 @ 2800Mhz
Graphic Card: Two NVIDIA GeForce GTX 1080 GPU of 8GB GDDR5 
Storage 1 : NVMe SAMSUNG MZVPV512 512GB SSD
Storage 2 : 3TB TOSHIBA DT01ACA300 Hard Drive
Expansion Slots: 3x PCI-e 1, 3x PCI-e x16, 4x DDR4 LONG-DIMM SLOT.
Sata Ports: 6 x SATA 6Gb/s
Wireless: 802.11 ac2 x2 (Optional), Bluetooth V4.1 (Optional), NFC (On selected models)
LAN: 10/100/1000/Gigabits Mbps
Asus ROG GT51CA Design:
Asus GT51CA is a first-rate ROG series gaming beast. It features a unique Aerodynamic-inspired futuristic design, supported by customized LED's. ROG signature red LED embarked on front with a logo in the center top, is eye catching. To subdue nominal look, the lower end cylindrical shape structure imitates a space ship engine exhaust, with 8 Million dynamic colors LED. The body seems durable and heavy. NFC sensor is at front and works only with Asus ROG Band, it provide access to a Ghost Drive, kind of hidden partition to keep valuable data. Otherwise it has no usage. LED Lights have been divided into 3 different zones programmable via pre-installed AEGIS II app.
A power button with Blu-Ray optical drive sits on the right and a dedicated OC button to the left, press and boost the CPU clock upto 4.6 GHz without restart. 
USB 3.0, USB 3.1 Type-A and USB 3.1 Type-C sits vertically on the top left, with Mic Port and Hi-Fi powered audio port at the extreme right.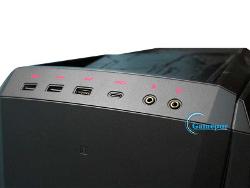 Left transparent Side Panel reveals ROG branded Liquid cooler with custom LED strip and the dual GTX 1080 cards for sheer performance. The rear end holds different motherboard connectivity ports. 
Asus provides a dedicated gaming keyboard and mouse in the package. 
Keyboard: A standard PS2 non-backlit mechanical keyboard with Cherry MX Black switches seems comfortable model for gaming with a few extra replaceable switches and wrist wrest in the package.  I was expecting it to be impressive by design as the cabinet itself is, but no it's just simple regular mechanical keyboard nothing special, I don't like the build quality of keyboard here, we get few replaceable keys and PS2/USB connector along with it, and we all know PS2 keyboards are simply outdated.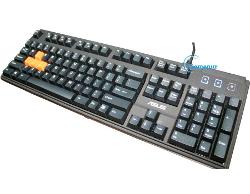 GX950 Gaming Mouse: Coming to the mouse GX950, this is something special here and pro gamer level of mouse. Got six keys and we have special weighing feature, means if you find it too heavy you can reduce the weight of the mouse by removing tiny weight plates, which weight around 4.5 gram each. Rubberized texture, instant DPI control and a comfortable grip with high precision laser adds more power to gaming.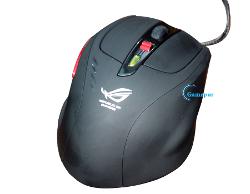 Asus GT51CA Internal Hardware:
Elegantly assembled, it's an out of the box gaming model. All 4 ram slots are occupied by 16GB RAM each. Two PCI-e x 16 slots among three are used by dual 8GB GTX 1080 GPU. 6 SATA ports are enough to boost up future storage with an NVMe SSD that uses the PCie slot. A custom led strip near the processor is amazing, and a ROG branded liquid cooler for handling immensive heat pressure on high end gaming and turbo boost. 
Asus ROG GT51CA Desktop is an exclusive out-of-the-box gamers deal, costly though, but capable of giving you performance at 4K settings for years on multiple display.  It is full tower machine, and heavy about 27KG, so it is advisable to use extra hands when you are moving this machine from one place to another.
Asus GT51CA Desktop Gaming Performance:
Dual GTX 1080 GPU on easy SLi lets games to work at high settings, no lag tolerated. Dual storage channels, first is a NVMe SSD drive of 512 GB that holds Windows10, a 3TB spare partition to store everything you have. Our test shows games on SSD are best, but when we shift the setup to the secondary hard drive, the rpm bottlenecks full potential. 
We have tested many high end games on GT51CA Pascal including Dishonored 2, Watch Dogs 2, Battlefield 1 and Mafia 3, in best possible Ultra quality settings proved to be just Medium. 
Asus GT51CA Desktop Hardware performance:
Asus GT51CA is game ready machine with pre-installed Windows 10 64bit operating system. It runs on One of the latest and greatest processor Intel Core i7-6700K clocking at 4Ghz, which can be overclocked to 4.6GHz with pre-configured One button turbo boost feature. 
The desktop has NVMe SAMSUNG MZVPV512 as primary storage that holds Windows 10 and TOSHIBA DT01ACA300 7200RPM 3TB secondary Internal Hard Drive for data. Coming to SSD and HDD read/write performance, the SSD performs superbly well. The SSD->HDD write operation produces speed of 2.5GB/s whereas while copying content from HDD->SDD, speed is only 10MBps. SSD size is 512GB is less, I feel within this budget ASUS could fit 1GB of SDD in the system.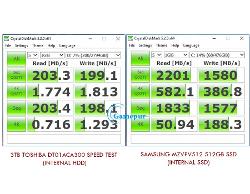 RAM of 64GB, the 4 pairs of Samsung DDR 4 RAM clocking at 1066Mhz is more than enough to handle high end gaming settings and performance. The OC boost key pushes the cpu to max 4.6Ghz stable. There is no need to do any manual settings through bios or reboot to apply it. Hit the same button and it gets back to its normal clock rate. A few percentage of gain will not put much impact what we feel here.  Overall hardware is capable of beating any high end system in the range.  
Cooling solution works adequate, not so good or not so bad.  The CPU has ASUS custom liquid cooling solution where as GPU has a dedicated air channel. We have observed that when not gaming it maintains CPU, GPU temperature around 30C, 49C respectively and during high pressure gaming the CPU, GPU temperature raises to 53C and 59C respectively.
Overall GT51CA hardware is one of the best in the market today. The complete build of Asus ROG GT51CA, focus on high end hardware that does not really require to over clock. Still at highest settings full 4.00Ghz is not consumed fully. On the other side a latest chipset powered board is capable of handling all bottleneck issues that other custom assembled system usually face.
Asus GT51CA Desktop Benchmark Reports:
The performance ratings of GT51CA by benchmarking tools is just exceptional, you don't ask for better at least for few years.  3Dmark's 4k Fire Strike Ultra Test gave it score of 8789 which is 97% in its ranking, and Time Spy DirectX 12 benchmark test gave it score of 6192 and 10346 in SLI-Disabled and Enabled mode respectively.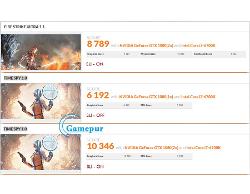 Pretty impressive isn't it? PassMark gave it overall score of 97% percentile. The processor ranks higher in comparison to builds using AMD FX-8120, Intel Core i5-4590 and AMD FX-8370 with similar hardware configuration but low on ram, not upto 64GB. The complete build of Asus ROG GT651CA, focuses on high end hardware that does not really require to over clock. Still at highest settings full 4.00Ghz is not consumed fully. On the other side a latest chipset powered board is capable of handling all bottleneck issues that other custom assembled system usually face. 
Asus GT51CA desktop has given us impressive results on our benchmark test.  We have run quite few benchmarking tests on GT51CA Pascal, and results are as following: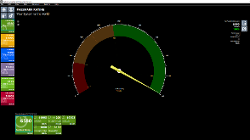 Asus GT51CA Pascal vs. Assembled Gaming PC – Editors Point-of-View
We tried to manually cost GT51CA Pascal specs in market today and there is difference of about 25% with the Assembled Gaming PC in the market, means you can save up to 25% of cost if you decide to manually build this machine on your own. 
Verdict:
GT51CA Pascal has killing design and performance. It is featured rich and provides pro gaming ride in an easy way. You don't have to be pro hardware assembler or over clocking expert, there is provision given for every gaming need, just install the games and start enjoying it. 
GX950 Mouse ships with this machine is of pro quality but not the keyboard, it could have been better. I feel if somehow HD display could be added to whole package of GT51CA Pascal then it would have been just great deal. Well that's it, we have put everything in front of you to decide whether you should buy ASUS ROG GT51CA Pascal. If you have no budget constrain then you'll love this premium gaming rig.
Rating: 8.5/10
Price: INR 3,30,000/- Approx (USD $4800)