ASUS ROG G752VS Review: A decent UHD Gaming Laptop
Gaming Desktops are ideal, because they give you the power to customize, but what if a gamer needs convenient on-the-go way to easily run all high end games? This is where a gaming laptop comes in the picture. We bring you a class model not just designed to showcase power, but made to deliver it. It is Asus G752VS, a ROG series high end laptop with OC edition processor and enough hardware to compete with your rig. It is obvious, such model carries heavy cost, as they are unique.
Asus G752VS is packed with latest Nvidia GTX 1070 GPU holding about 8GB of Video Memory, a 6th Generation Intel Core i7 6820 Skylake OC Edition processor clocked at 2.7Ghz and capable of reaching 3.6Ghz, 32GB (16x2) DDR4 RAM, a Toshiba 512GB NVMe SSD that holds Windows 10, a secondary 1TB Sata 5400 rpm Hard Drive for storage, 17.3inch LED Screen with G-Sync and Illuminated Chiclets Keyboard. I've tested it to find out how well this gaming laptop can perform on high game settings, but before going into the details let's have a look on some crucial features.
Asus G752VS Features:
Armor Titanium and Plasma Copper color scheme
OC Edition CPU and RAM
3D Vapor Chamber Thermal System efficient to decrease GPU temperature up to 7 degree Celsius
Backlit anti-ghosting gaming keyboard
Next-Gen VR Support
178 degree AHVA Wideview IPS-Type Panel with Nvidia Gsync.
ROG NVM Express SSD with dual user-accessible M.2 bays
Fine Tune laptop with ROG Gaming Center
Sonic Studio and Sonic Radar for immersive Gaming Audio
Intel Thunderbolt 3 with USB Type-C port, get speed up to 40GBits/s
Design:
Asus G752VS is heavy, the weight is around 4.4kg with battery, the chassis is strong and features Armor Titanium and Plasma Copper color scheme. It looks like a premium gaming laptop.
Front:
A web camera and dual echo cancellation and noise suppression microphones are on the top line. 17.3inch display panel covers the major front part which is a LED Backlit UHD screen that delivers 4K resolution of 3840x2160 @ 60Hz with 178 degree viewing angles. It is a 100% Adobe anti-glare panel supported by Nvidia G-sync. The laptop comes with a power adapter, in the package there is no other accessories like a laptop bag or a gaming mouse, etc.
Below is full size Illuminated Chiclet keyboard with 30-key rollover. Power key is on the top. 6 keys are placed at the extreme left, among which first is a dedicated recording button, to launch Xplit Gamescaster for gameplay recording. Next 5 keys are programmable macro keys. Keyboard is comfortable to use, but the big touchpad at the bottom with status indicator lights, always comes in middle when you are working. You can still manage games on the keyboard, but for better movements we recommend a gaming mouse. The touchpad is pretty huge with two keys, there is lot of empty area on the right with gray ROG Logo at the end.
Right Side:
A combo Headphone and S/PDIF jack is first from the left. You can use your regular headphones or speakers with 3.5mm aux connector or you can also connect an S/PDIF device to transmit digital audio for better sound quality. A Mic jack is next, and after that an Audio Input jack for Stereo Audio. The laptop has a USB Type-C/Thunderbolt 3 Combo Port which is backward compatible to USB 2.0. It offers high speed data transfer up to 10 Gbit/s. Powered by Intel Thunderbolt Technology, you can connect a Thunderbolt 3 Adapter for connecting secondary display and get high resolution over DisplayPort, VGA, DVI or HDMI.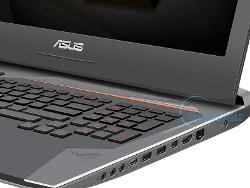 Next two are USB 3.0 port among which the first one comes with USB Charger+. You can charge your Smartphone or tablet when the laptop is on or when it is on sleep, hibernate or turned off. Next is Mini DisplayPort, HDMI, a LAN Port and finally at the end power jack.
Left Side:
Towards the left there is one more USB 3.0 port, aligned with Optical Drive and a Memory card reader at the end.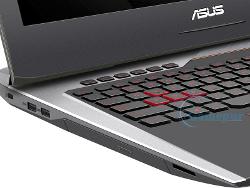 Back and Bottom:
ROG signature led lights are over the laptop lid that we had received a few high end Asus models before, where this LED lights were customizable. But in this model we had not found settings to modify the light settings. Huge air vents with rubber cover adds charm to the design. It makes the laptop looks like a high end model.
88WHRS, 8 Cell L-i0n battery is locked, the lower compartment gave access to NVMe SSD, Hard drive and RAM. Towards the bottom left lies a subwoofer for adding rich bass to the sound.
Overall Asus G752VS has a sturdy design yet heavy with premium look. It is not comfortable to carry due to its weight and in the package we had not received any backpack. So we assume that the official model is sold without it.
Benchmarking Reports:
The performance test reveals, Asus G752VS perform pretty well on 4K settings. Thanks to the Thermal System that manages internal heat while playing games on high settings. It contributes large to the performance. Overall the score is good enough to make us satisfy, yes this laptop can be a 4K choice, but still it cannot compete with system with SLi card setup.
We ran two tests from 3D Mark, first is Skydriver and second Timespy. Both were run first with Gsync Enabled and then once again after turning of Gysnc. There is an impact in the score output. When Sync is off, the laptop scored 27596 on Skydriver and 5077 on Timespy. The same was 12477 and 5099 when Gsync was enabled. Talking about passmark it scored 4589 without gsync and 4211 with it. The laptop delivers better output if you are not using Gsync at all.
Skydriver Gsync Disabled - 27596
Skydriver Gsync Enabled – 12477
Timespy Gsync Disabled - 5077
Timespy Gsync Enabled – 5099
Passmark Gsync Disabled - 4589
Passmark Gsync Enabled – 4211
Toshiba XG3 NVMe SSD is the first hard drive that holds the OS. It offers a 2476 Mb/s of Read and 1019 Mb/s of write speed on our test. A secondary 1TB SATA hard drive offers 136 Mb/s of Read and 127 Mb/s of write speed. Having a SSD at the start matters a lot to the performance. From gaming perspective 512GB is enough for installing a few games, you can store them for long time, and the secondary drive fulfills the requirement of saving installable.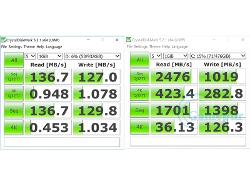 FPS Test:
We tested four on Ultra and High settings. The games are Mafia 3, Skyrim Collector's Edition, Witcher 3 and Crysis. At first on Ultra settings at 4K resolution fps is compromised. There was no lag issue at all. Also the temperature was pretty linear. Both games offered detailed graphics, amazing color and smooth gameplay. At High settings the fps boosted a bit. Like on Ultra settings Skyrim was not getting over 25fps that boosted to 47 after putting it on high. The resolutions were not changed.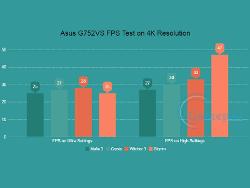 We were not much worried about the temperature this time, we had tested a few gaming laptops before where our temperature test crossed 75degree within an hour. But in G752VS it is slow. The laptop CPU reached max 74 and gpu reached 76 degree max, on ultra settings, but this was controllable. Otherwise ideal temperature after long hours of usage somewhere stays between 50 to 65 degree.
Battery Life:
G752VS has an 8 Cells 90 Whrs Battery. Battery output is near to satisfactory, on gaming obviously you won't get much time, but on regular works like a video editing or generally using it, the laptop works fine for approx 5 to 6 hrs. Keeping it on sleep mode in between is considered. It has a huge adapter that shows the amount of power it draws out, the thermal design that keeps the system cool also consumes good amount of power, which anyhow reduces the battery life.
Gameplay footage of Crysis 3, The Witcher 3 and Mafia 3 on ASUS ROG G752VS:
Verdict:
G752VS is a powerful system, Asus has tried to fill the best hardware with an OC edition CPU and RAM that boosts its power to give you more. It has a factory overclocked processor, so you don't need to put effort for getting the right frequency. As per ROG Gaming Center app, that has internal profiles to boost clock rate, we got around 3.4 GHz max. For 4K medium to high settings this was enough. However still the laptop has a single graphic card and true performance of 4K is mostly possible on SLi setup, where two or more cards perform equally. Having such high output also results in high temperature, that is further controlled by the 3D Vapor Chamber Thermal System which is an important part of design. Performance wise, Asus G752VS is a good to go model, it cost around $2,545.99 on Amazon.
Rating: 8.5/10