Noctua NF-S12A Review - Case FAN's Engineered for Sheer Performance
Do Case Fans truly matters for a PC, or is it a less serious part of a system? Well, it depends on what you are building. If we consider a Custom Build for gaming or high-end processing, we see steady air flow as a significant affair to uphold cooling inside the case, and a reliable one leads to long lasting stable performance. A steadfast cooling solution in form of System Case Fans maintains air flow at a decent rate by drawing heat out. But finding the right case fans could be challenging. Liquid coolers on the other side are gradually growing, still, it will take a few more years to get a deliberate model to handle the entire case airflow alone, at an affordable cost.
For instance, we have Noctua, a leading manufacturer of CPU and case cooling solution. We receive three Noctua NF-S12A series 120mm case fans to test. Our motive is to find how well it works is based on gaming and high-end processing. Our test machine which already has Corsair H110i Liquid cooler that gives us wide temperature gap to run games on high-end settings, the current 120mm signature fan by Corsair are good enough, but after adding S12A its more beefed up in output. We had tested the fans with and without liquid coolers and our test reports below offer us a pleasing conclusion about S12A's performance.
Package: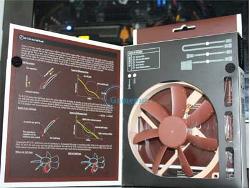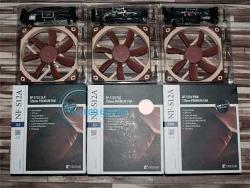 Design:
NF-S12A series is engineered for sheer performance. Noctua uses its proprietary technology to power-up the fan for a stable and quiet airflow. All three variations have changes in terms of rpm speed and connectors otherwise everything is same. The three models are Noctua NF-S12A ULN, Noctua NF-S12A FLX, and Noctua NF-S12A PWM. ULN is an 800 RPM fan with 3 Pin Connector, FLX and PWM are 1200 rpm fan. FLX is also a 3-Pin FAN, but ULX comes with 4 Pin connector. They are designed with 8% more power compared to its predecessor. For more air flow you can go with the PWM version that comes with an NE-FD1 IC, an automatic speed control via the connector and a low noise adapter. All the models have SSO2 bearing that adds excellent smoothness in performance and a premium quality further adds long lasting output for years.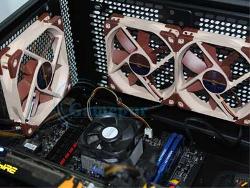 NF-S12A has a classic design with a premium color layout, common in all Noctua fans. Advance Acoustic optimization allows the fan to have the lowest vibration at maximum rpm. The frame design of 120x120x25 is easy to fit in most mid and full tower chassis.
Performance:
We are testing the third generation of S12 series which had gained around 250 awards. The fan features an Anti-Stall Knobs followed by AAO Frame which adds a high improvement in the air flow and keeps the fan low on noise. As they are case fans, the output usually relies on the overall setup in which the CPU cooler has a major role to play. The fans features pressure optimized nine blade design and Noctua's signature SSO-Bearing. These two contribute in enhanced output in building a decent air pressure and air flow. In our test we had able to gain a few degrees lower in temperature with or without a liquid cooler. These fans are ideal to fit on liquid cooler radiators especially the PWM model. The other two models can be used on the front or on the back side of the case. You will at least need minimum 3 of these fans to maintain a quality air flow in any case. PWM offer you speed control that helps to set it high up to 1200 rpm which is cap at 900 rpm. Higher rpm does not mean it will take too much power, ultra-lower power consumption is also one of the highlighted points of Noctua fans.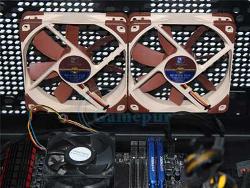 Performance wise all three fans are good enough for offering decent cooling output on any kind of systems. But compared to all of them PWM gives a few extra features and more control to end users. The premium quality helps you to use it for the longer period as Noctua is already giving a massive 6-year warranty on the product.
System Config on which the fans were tested:
AMD FX-6300 Six-Core Processor
970 GAMING (MS-7693) Motherboard
16Gb HyperX DDR3 RAM
CORSAIR VS550 Power Supply
CORSAIR H110iGT liquid Cooler
SAPPHIRE R9 270x 2GB GDDR5 Graphics Card
1TB WD Hard Disk
BIOS RPM Reading for each fan MAX:
Noctua NF-S12A ULM – System 1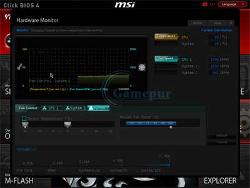 Noctua NF-S12A FLX – System 1
Noctua NF-S12A PWM – System 1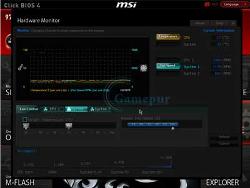 Verdict:
Noctua NF-S12A series is ideal for case fans, you can apply multiple fans on the front, top or on the back of a case. As we had said already having a decent CPU cooler matters a lot to get maximum from the case fans. For Air Coolers on CPU, these fans help a lot to draw out heat and push more and more cooler air. This maintains a decent CPU temperature on long run. In our test machine when playing games on max system the temperature was crossing 60degree just like that, after adding the fans the temperature gain was down to 40%. On other side, when we applied a liquid cooler there was huge drop in rising temperature speed. Through our test we can conclude these fans are really designed for sheer performance. They are quiet silent on high rpm and durable.
The fan already appears in the top ten list of best case fan around the web, the only thing it misses is no LED's in it, well a few bunches of lights does make the case for happening.
Price:
Noctua NF-S12A ULN - $19.95
Noctua NF-S12A FLX - $18.99
Noctua NF-S12A PWM - $18.95
Rating: 8/10