Corsair Obsidian 750D Review - Full Size 9KG Back Breaker Tower, Seriously a Beast
A few manufacturers truly offer serious and spacious CPU cabinets, designed for high-end custom system builds. Corsair is one among them who owns a huge menu for hardware enthusiast to build from entry level to an extensive level system, followed by other hardware components. And from that menu, we have the beast Obsidian 750D. A blacked brushed aluminum and steel ATX full tower cabinet expensive though valuable. Such weighty cases are ideal if you are hunting to locate a potential, high-end cabinet capable of consuming three SLI or Crossfire full-size graphic cards, 6 hard drive slots, 9 case fans and still a lot of space is left for customization.
We will test Obsidian 750D and find out how well it really fits in our need if one is ready to pay a big chunk of cost only for the tower. First, let's have a look on specs.
Obsidian 750D Specification Highlights:
Material: Brushed Aluminum and Steel.
Form Factor: Black Full-Tower.
Motherboard Support: Mini-ITX, MicroATX, ATX, E-ATX, XL-ATX.
Max GPU Length: 450mm.
Expansion Slots: 9.
Drive Bays: Six Combo 3.5 and 2.5inch HDD Tool-fewer bays.
Connections: Two USB 2.0 and USB 3.0 with Audio jacks at front.
Fans: Three 140mm fans, two at the front and one at the rear.
Design:
Obsidian 750D is a non-shiny black color case, it is quiet heavy and has a transparent window on the left part. It looks decent but shifting is hard due to 9.7Kg weight that increases more after adding hardware in it. We found stuff in 750D is very straightforward. It might not be a very shiny case, but it is durable due to its overall body elements. From a design point of view, it won't outshine others, but from features part, it is quiet an amazing case that stands for years of upgrades.
Front/Back:
The front side has minimum things, two audio ports on the left, tiny reset button, power button on center top, with 4 USB ports among which two is USB 3.0 and other two are 2.0. It is accessible easily due to top placement, but if you keep it on a table, you have to raise your hand a bit. Next, there are three expansion slots for the optical drive and below a door hiding two 120mm fans and dust filter. With the simple press, you can open up the front part, and clear the dust. We had tried adding a Corsair H110i 280mm Radiator at the front, it didn't work due to certain placement issues and also you need to remove one among two hard drive bays that hold 3 internal hard disk each. But the case specification says it does have a support for 240 and 280mm Radiator mount on the front. At the back side there are 7 expansion slots, which act as easy access to connections and a single fan.
Sides:
The left side has a plastic window, it is not durable, so do watch when you are placing it, it offers a transparent view inside the case, if you had LED's on your CPU cooler or graphic card, it seems fascinating. The side panels are easy to move out, they have simple screw holdings.
Top/Bottom:
The top has a dust filter that covers the entire big area on top, and a second removable at the bottom. You can also see the image placement for fans or radiator.
Internal:
The internal part is the USP of 750D. The expansive space inside can hold motherboard of all sizes. It is an ideal case if you are willing to use an SLI or Crossfire based graphic card setup. Even after adding three cards there is still plenty enough space left for more customization. Those who prefer to go with custom liquid cooling solution also have enough provisions in it. The removable drive bays are easiest to use. At a time these can hold 3 drives each and can be removed to make more space inside. With it, there are tool-less SSD drive bays that are placed on the backside. Things are well organized inside, due to expansive space air flow is good, Corsair already provides three 140mm fans, two at the front and one at the rear. To beef up more you can apply a liquid cooler that will totally resolve your CPU heating problem.
Cable management: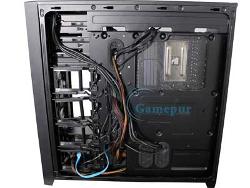 Cable management is a crucial point to avoid mess inside the case when you are using a number of hardware's. 750D has a really smart way of sorting cables. The rubber gourmets and enough amounts of openings allow you to easily rotate cables around from the backside instead of leaving them in between. For such cases Corsair's 1000W PSU is the best, for example RM1000, a fully modular PSU with removable cables, you can use only those which are required.
Cooling: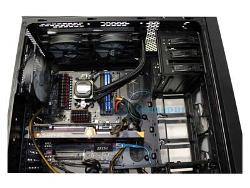 750D is a high-end case, so it is obvious that we won't be using a regular configuration on it, instead of many of us will choose to build a nice gaming system. Cooling is another aspect which we believe matters when it comes to performance. In 750D the air flow is decent due to openings on the top, back, and front. Hot air is not trapped inside, instead, it flows well, on the basis of fan placement. This helps other hardware to remain a few degrees lower. You can add around eight 120mm fans in 750D. This is more than enough to have a steady air flow.
PC Build: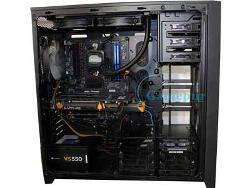 We shifted our hardware to 750D that took quite a fewer time in setting up everything properly. Fixing the drive is a piece of cake due to tool-less bays, and also there is always an enough space to expand. Our test configuration is below. After adding everything along with a liquid cooler, we found extremely comfortable to introduce more graphic card if needed. An ideal solution for future upgrades, like if you plan to put a new card or dual cards, or add SSD, 750D has enough provisions left always.
Test PC Configuration:
System Config on which the fans were tested:
AMD FX-6300 Six-Core Processor
970 GAMING (MS-7693) Motherboard
16Gb HyperX DDR3 RAM
CORSAIR VS550 Power Supply
CORSAIR H110iGT liquid Cooler
SAPPHIRE R9 270x 2GB GDDR5 Graphics Card
1TB WD Hard Disk
Verdict:
Corsair 750D is a costly case, but we do consider it a one-time purchase in case of building a high-end system. The case is having a steel body, which makes it heavy, so moving it from one place to another is a back breaker. Clean design and enough support to fit the best possible cooling solution makes it a worthy cabinet. Still, we have enough models in the competition that offer us at much lower price rate, but if we look at the outstanding quality build, the features it offers, this one do have a lot of potential for serious hardware enthusiast.
Price: $149
Rating: 7.5/10